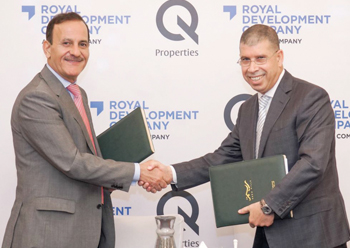 Officials at the signing ceremony in Abu Dhabi.
Royal Development Company (RDC), a property management firm owned by Emirates Stallions Group, has been appointed by Q Properties to manage its AED8-billion ($2.2 billion) luxury residential project, Reem Hills, located on Abu Dhabi's Reem Island.
With the first phase due for completion in December 2024, RDC will manage the project in its entirety, leading the overall planning to the implementation process, including the design management and supervision of all contractors.
Emirates Stallions Group CEO Kayed Khorma said: "We are delighted to have been awarded the Reem Hills project management contract; this outstanding achievement showcases Royal Development Company's continuous growth in these large-scale projects."
Reem Hills comprises a private beach, man-made hill, islands, canal, retail and community facilities including parkland, schools, mosques, community centres, restaurants and leisure areas.