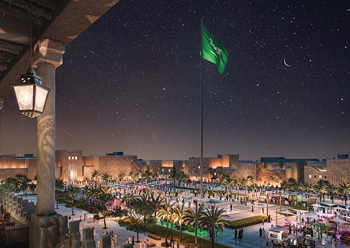 A $50.6-billion transformation plan is under way for the historic city of Diriyah in the Riyadh area.
Who would have thought some six years ago that Saudi Arabia will open up to international tourism? Who would have thought it would consider building some of the "world-first" entertainment destinations or, for that matter, the world's largest water park, far less still a mountain tourism destination and outdoor ski resorts?
Yet recently, Saudi Arabia has been unveiling previously unimaginable projects and focusing on creating the unexpected as it looks to diversify its economy, attract foreign investment and reduce its dependence on oil revenues. Its efforts are already bearing fruit with the total amount of net FDI inflow last year having reached $19.3 billion, representing a 257.2 per cent increase over 2020, according to the Saudi Ministry of Investment's Invest Saudi report.
Last October, HRH Prince Mohammed bin Salman, Crown Prince, Deputy Prime Minister, and Minister of Defense of Saudi Arabia – who is driving much of this transformation – stated that the Saudi economy is expected to be energised with SR27 trillion ($7.17 trillion) in government spending and investments by 2030 as the kingdom aims to position itself among the top 15 global economies. The nation intends to invest more than SR12 trillion by 2030 to spur local economic growth, a further SR10 trillion will come through government spending over the next 10 years and SR5 trillion from private consumption spending in the same period.
The Crown Prince highlighted that out of the SR12 trillion, the Shareek program initiatives will inject SR5 trillion, the Public Investment Fund (PIF) – Saudi Arabia's sovereign wealth fund which is spearheading the kingdom's economic diversification programme – is set to contribute SR3 trillion, and the remaining SR4 trillion will come from investments facilitated by the National Investment Strategy (NIS).
Saudi Arabia has launched the National Infrastructure Fund (NIF) to support up to SR200 billion in projects over the next decade. The fund will invest in areas such as water, transportation, energy and health, contributing to the country's plans to transform the economy and make it less reliant on oil revenue, according to the state news agency SPA.
All these massive investments are likely to cascade into a surge in construction activity in the kingdom.
In line with its Vision 2030, the kingdom has unleashed several ambitious multi-billion projects including the $500-billion Neom City, the $20-billion Diriyah Gate, the $20-billion Jeddah Central Project, $10-billion Qiddiya entertainment city, The Red Sea Project, Amaala luxury wellness destination, Masar destination in Makkah, Prince Mohammed Bin Salman Non-Profit City, AlUla, Al Widyan, the $13-billion Asir mountain hub and four wellness projects worth $6.12 billion – namely King Salman Park, Sports Boulevard, Green Riyadh and Riyadh Art. In addition, it has several economic cities and industrial parks such as King Salman Energy Park (Spark) and King Salman Global Maritime Industries Complex; as well as infrastructure projects such as the $27-billion Riyadh Metro and Bus project and the $7-billion Saudi Landbridge Project under way.
This apart, Saudi Arabia has also announced a SR700 billion ($186.63 billion) investment in developing a green economy by planting 450 million trees and rehabilitating 8 million hectares of degraded lands and launched initiatives in the energy sector to reduce carbon emissions by 278 million tonnes annually by 2030.
The mega projects list is mind boggling … and these don't even include the hundreds of projects that are not even on the public radar.
Saudi Arabia is now considered the top-performing market in the region and its ambitions are likely to receive impetus with oil prices having topped $100 per barrel from $61 in April last year. The nation is expected to post its first budget surplus in nearly a decade this year.
In 2021, the construction contracts sector registered a 78 per cent rise in activities when compared to 2020 and this upward momentum is expected to continue in 2022 as well, according to the US-Saudi Business Council. The value of contracts awarded surged to SR142 billion in 2021 with Q4 alone registering SR70.2 billion, the highest in nearly six years, it added.
According to market research firm Mordor Intelligence, the kingdom's construction market is expected to grow at a CAGR of more than five per cent during 2022-2027.
Saudi Arabia's recovery from the effects of the Covid-19 pandemic accelerated in the second half of last year, with real GDP showing an expansion of seven per cent in Q3, followed by a growth rate of 6.7 per cent in Q4. This positive trend was shared by both the oil and non-oil sectors, which grew by 10.9 per cent and 5.1 per cent, respectively, in Q4, according to the Invest Saudi report.
While the kingdom is witnessing an upsurge in construction activity, there have been growing concerns about rising cost of materials and shortage of labour and, most importantly, the crucial top-level engineering and management skills required to propel the massive developments envisaged under Saudi Arabia's Vision 2030.
According to a recent RICS construction survey, respondents focused on the lack of financing available to make schemes viable (70 per cent) and a shortage of skilled professionals to carry out the work (76 per cent) as the biggest factors that are now holding back the construction sector in Saudi Arabia. Cost of materials (64 per cent) is also a contributing factor to future construction success.
Construction costs are expected to grow by 7.63 per cent over the year – the largest increase faced by developers when compared with other costs such as material costs (7.56 per cent) or paying for skilled labour (6.34 per cent), according to the survey.
Housing
Housing has continued to be a priority for the government, and the country's efforts are now showing results. According to JLL, a global specialist in real estate and investment management, Saudi Arabia's residential sector saw an acceleration in the number of units completed in Q1 2022, helped by the government's continued efforts to deliver housing which meets the needs and aspirations of its citizens.
The first quarter of the year saw the completion of 4,000 and 2,000 units in Riyadh and Jeddah respectively, partly driven by the Ministry of Housing's various initiatives to increase home ownership in the kingdom to 70 per cent by 2030, it stated.
In a bid to accelerate home ownership rates by citizens across the kingdom, the PIF set up Roshn as a national community developer in 2020. Roshn's first residential community in the capital, Sedra, will feature over 30,000 private homes (see Page 69).
Meanwhile, under the kingdom's Sakani Housing programme, work is in progress on seven major residential suburbs in major cities across the kingdom. Once completed, they will add 146,500 new homes on the kingdom's market.
Power & Water
A key sector that has seen significant private sector participation is the utilities segment, where the Saudi Water Partnership Company (SWPC) – which is fully owned by the Ministry of Finance – has been mandated to seek investment in desalination, water purification, sewage water treatment and co-generation projects. The company has been pushing ahead with several projects in the water and waste water sector, ranging from independent sewage treatment projects (ISTPs) to water reservoirs and to water transmission pipelines (IWTPs) in partnership with the private sector. For instance in January, the SWPC issued request for qualifications (RFQs) for two independent strategic water reservoir projects in Al Ahsa and Eastern Province. In the same month, it called for RFQs for the development of two independent sewage treatment plants in Riyadh and Khamis Mushait with a total capacity of 150,000 cu m per day. Last month, SWPC has received prequalification bids for three major Independent Water Transmission Pipeline (IWTP) projects with a a total transmission capacity of 2.23 million cu m per day (see Page 68).
Apart from the water sector, the government has been seeking private sector participation in boosting the renewable energy sector. The Ministry of Energy recently awarded contracts for Ar Rass and Saad Solar renewable energy projects with a total capacity of 1,000 MW.
One of the key projects underway under the PIF renewable energy programme is the 1,500 MW Sudair solar plant, which is being developed by Acwa Power.
According to the Minister of Energy Prince Abdulaziz bin Salman bin Abdulaziz, Saudi Arabia aims to release further renewable energy projects with a total capacity of around 15,000 MW in 2022 and 2023.