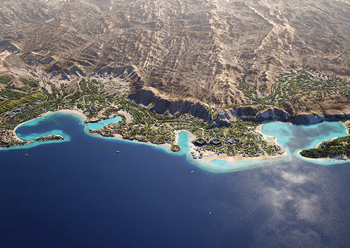 Set against a backdrop of imposing mountains and running alongside a coastline of beautiful coves, Triple Bay will encompass 16 hotels.
Work on Amaala, a stunning wellness destination nestled along the Red Sea coast in the northwest of Saudi Arabia, is now moving to the construction phase with some 100 contracts worth around SR3.5 billion ($932 million) having been awarded to date.
One of the largest packages currently out to tender is a public-private partnership (PPP) contract for the power and water supply, according to David Watkins, Amaala's Chief Delivery Officer.
Centred around the three pillars of wellness and sports, arts and culture, and sea, sun and lifestyle, the 3,800-sq-km destination is located in the spectacular Prince Mohammed bin Salman (MBS) Nature Reserve and will comprise three communities each offering a distinct sets of experiences: Triple Bay, a sports and wellness community; the Coastal Development, which aims to offer a year-round artistic programme; and The Island, an artists' community and hub of creativity.
Set against a backdrop of imposing mountains and running alongside a coastline of beautiful coves, Triple Bay will spread over 11.3 sq km and encompass 16 hotels with 1,325 hospitality keys and 435 residential units. The Coastal Development, extending over an area of 7 sq km, will comprise seven hotels offering 800 keys as well as 200 residential units. The Island, covering 3.5 sq km, will host seven hotels offering 400 keys and 200 residential units.
Speaking to William Grieve, Watkins says: "Over the last few years, we've been mainly concentrating on the masterplans. We're now moving into the construction phase, following on from the early works, the bulk earthworks and the piling works which have been ongoing for the last nine months. We're now seeing big changes on site, big changes in the landscape, and are getting ready for the foundations and the construction works that are taking place."
"We have awarded over 100 contracts to date worth just above SR3.5 billion. We've got some of the large earthworks contractors, for example Binyah doing earthworks across our Triple Bay masterplan site; Haif Trading and Contracting working on our staff village construction site, and some piling contractors and ground improvement contractors have commenced work," he adds.
Construction
Haif has been engaged to do infrastructure works and bulk earthworks at the site, which involves lifting ground levels and installing roads, services and utilities.
Given the remote location, getting staff accommodation in place has been a top priority. Watkins says the first of these camps for 5,000 workers is up and running with the second and third phases now under construction to take capacity up to 15,000. He expects the total manpower to reach 30,000 to 35,000 at the peak of construction towards mid-2024.
The staff villages are located about 10 km north on the Triple Bay site and they will serve as the future accommodation for employees of the hotels and other facilities once Amaala is open to tourists.
These staff villages will be small townships in their own right, featuring schools, hospitals and sporting facilities. The current focus is on getting all the amenities in place, Watkins says.
"We are very proud of our workers camp because we've ticked a lot of the sustainability principles. We've got amenities like cricket pitches and swimming pools and facilities for the workers themselves," he remarks.
The focus of infrastructure works has primarily been on the Triple Bay area. Work is also in progress on a 10.5-hectare inbound yachting marina, which is being built by Al Saad.
"We've built that marina inland – despite the fact that we've got natural bays – in order to protect the environment and minimise disturbance to it," Watkins says.
Dewatering works are currently under way at site while precast concrete blocks that will form the marina walls are being produced, he says, adding that the excavation phase will commence after the Eid Al Fitr holiday.
One of the major packages that are expected to be awarded this year is the PPP package for the power and water supply.
"We're currently out in the market working with vendors, in order for them to be able to design, build, operate and transfer in a PPP model and we expect to be awarding the package in the second half of this year. A lot of the building works contracts, the concrete wet trades, MEP, and some of the finishes and fit-out trades on the Triple Bay site will be awarded this year as well. So we'll see substantial and meaningful progress towards the end of this year, right across the Triple Bay," he indicates.
Being an ultra-luxury destination, quality is hugely important on Amaala; hence Watkins and his team are spending a lot of time and effort on working closely with contractors to make certain they maximise the quality with the right quality control (QC) tools and cascade these principles down their supply chain.
The focus will also be on prefabricating offsite to ensure quality products in a factory-controlled environment.
Amaala is looking to achieve the highest sustainability rating equivalent to the LEED (Leadership in Energy and Environmental Design) Platinum, in line with the development's ethos.
According to Watkins, Amaala has been designed and will be built to conform to LEED standards, and this extends to how it separates and treats waste and minimises it. The development will operate on solar power and will have its own desalination plants. The design of the development draws heavily on traditional Arab architecture with narrow alleyways and heavily shaded areas. LEED principles will also be adopted in the selection of HVAC systems and triple glazing.
Unique design, attractions
Watkins says the masterplan has aimed to capitalise on the full potential of Amaala's unique topography including its rugged mountain terrain and striking coastline.
"One of the unique things about Amaala is that the mountainous terrain comes right down to the coastline. Taking the topography into consideration, we have some unique designs: we've got hotels built inside mountains, hotels that are stepped up over the tops of mountains to take advantage of that different terrain, and also the bays and inlets that occur along the coastline. The HKS Architects masterplan for Triple Bay has taken those terrain features into account during the design stage," he comments.
"A lot of what will make Amaala is Triple Bay, the three bays, and the hills – they are the anchor points and symbolise the Amaala brand. The other areas further behind are still in the design phases, and we're doing investigation works on our islands masterplan, which involves a lot of ecological, environmental and cultural surveys, because these areas are steeped in history going back before the Roman times, the Nabatean era. Hence, we want to make sure that we're sympathetic to that and we preserve it. So we are doing a lot of investigation works before we move into the construction phases," he points out.
Besides Amaala's historic appeal, the destination is located within the Prince MBS reserve, which is home to some 150 Arabian wolves.
"A lot of people don't realise that there is a whole lot of natural wildlife and protecting that and looking after some of the unique flora and fauna in our areas is a big part of what would make tourists come and stay at the hotels," Watkins adds.
"One of the big differentiators of Amaala is certainly the landscape and the topography - not just from The Red Sea Project, but also from Neom as well - we're in such a unique part of the coastline. And the design focuses on sport and wellness, as well as the environment and arts and culture, which is a big differentiator," he states.
Challenges
With the project being located some 10 to 15 km off the west coast Highway 55, the location has not posed a logistical challenge – the challenge would be in constructing some of the stunning hotels which will sit on top of hills, Watkins stresses.
One such hotel is the proposed Rock Hotel, which will be located within a hill and will have rooms jutting out of it. "The challenge for me is understanding the geology under the hill, and whether it's something that we can easily construct within. One of the spectacular things about that hotel is, you see the natural form of the hill, right over the top of one of our bays. It's more a challenge of how do we build the Rock Hotel within the hillside; and how do we protect the hillside so it looks natural and not manmade," he says.
Watkins is already gearing up to tackle some of the challenges involved in construction. He currently has large laydown areas, extending over 50 to 100 hectares, to stock materials that will be used on site.
Given that Amaala is a low-density project, he points out it has an advantage over high-rise developments where you're locked into a sequence; with a low-density development it is about the amount of labour and supervision that goes into it.
"We can work on multiple fronts, so we can see very fast progress over time," he says.
Triple Bay is expected to open in the second half of 2024.