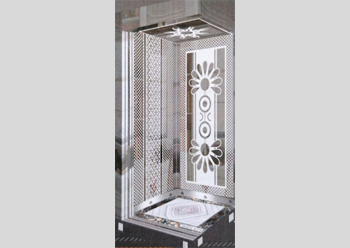 Escon Express Lifts ... customised systems offered.
Ambitions run high at Escon Express Lifts, which has its eyes focused firmly on becoming the largest manufacturer of elevators in the Middle East and also the Number One in India through the expansion of its business.
Towards this end, the company is in the process of negotiating with its parent firm, Express India, to build a factory in Bahrain, Ramprasath Parthasarathi, Chairman and Managing Director of Escon Express Lifts, tells Gulf Construction.
"We would like to be the largest manufacturers of elevators in the Middle East and add more value to the region's economy, especially Bahrain's. Our target is to start manufacturing in 2023/2024," he indicates.
Set up in Bahrain in 2018 as a joint venture by Express Lifts India, one of the top 10 lift manufacturers in India, the company has supplied its lifts for several villas and high-rise buildings in a number of areas of the kingdom, including Tubli, Amwaj, Samaheej and Sitra.
Commenting on business during 2020, Ramprasath states that it was generally dull during the year due to the Covid-19 outbreak although business levels have seen a slight improvement in the last quarter of 2020. He is confident of a swift recovering and the company's ability to meet all demands.
He elaborates: "Due to the coronavirus, our mobility was severely restricted because we were not able to meet customers and consultants and visit projects as our priority is always the safety of our employees."
He believes business will continue to be subdued do the fear of the pandemic fear until an effective vaccine is readily available
While Escon Express Lifts' current order book will keep it busy until the second or third quarter of 2021, the company is actively seeking opportunities in the regional market. It has already delivered its first order to Saudi Arabia for a residential villa involving four stops. Elsewhere, its expansion plans are in place, especially for Oman and Kuwait where it is planning to hire staff to start operations by the third quarter of 2021, Ramprasath says.
In Bahrain, which serves as the Middle East head office, Escon Express Lifts' office is located in the Seef area, where it has a staff of around 15.
Among the most challenging projects that Escon Express Lifts has handled since it set up operations in Bahrain was a 23-stop project.
"All our directors were involved in this project because the shaft was not straight. However, we managed to complete the project on time and successfully hand over the lift to our client," Ramprasath says.
Among the largest projects completed by the company was supply of machine-room-less (MRL) elevators and dumbwaiters for a 24-storey complex.
Escon Express Lifts' key products include hydraulic and manual lifts, goods/car elevators with a capacity of up to 10,000 kg, MRLs, auto door lifts that travel at speeds of up to 2 .5 m per second (mps), panoramic/glass lifts, hospital lifts (stretcher lifts) in all capacities and automatic luxury elevators with speeds of up to 4.5 mps.
This apart, Escon Express Lifts also offers hydraulically-operated car stacker parking systems for two cars, designed for indoor and outdoor installations.
Its passenger elevators range comprises manual as well as automatic elevators that can accommodate six to 26 passengers and travel at speeds of up to 4.5 mps.
"Our home elevators increase the value of the home, while allowing the disabled and the elderly to easily move through a multi-level dwelling," he points out.
"One of our unique selling points is that we are specialised in customised elevators; we provide solutions that suit our clients' requirements and preferences," says Ramprasath. "We offer energy-efficient elevators with a lower electricity consumption that reduces operating cost of the elevator and minimises the environmental impact."
The company offers a vast range of functional and visually appealing designs created by its design professionals and built using innovative materials and accessories. "Our lifts are distinguished by being quiet as well as smooth and quick in operation and have a unique car structure," he adds.
Escon Express Lifts, he says, ensures the quality and speed of installation, as well as undertaking testing before handing over the lifts. "We pride ourselves on having a devoted team of sales and technical engineers with professional expertise as well as many years of experience in skilfully executing and managing large, traffic-intensive installations," Ramprasath remarks.
Thanks to the manufacturing capacity of its India-based parent firm, Escon Express Lifts ensures quick delivery with a maximum lead time of two months and provides round-the-clock back-up service.
Express Lifts India, which was founded in 1995 in Ahmadabad, Gujarat, has a staff of 600 employees, in its factory and office, as well as commissioning and erection teams. It has a manufacturing capacity of 1,500 lifts per year and has to date installed more than 35,000 elevators. The company has 11 branches in India and four overseas branches in Bahrain, Saudi Arabia, Kenya and Nepal.
To meet the demand for its products, Express Lifts India is currently setting up a larger factory in India covering 20,000 sq m and featuring a testing tower for hydraulic and MRL lifts.