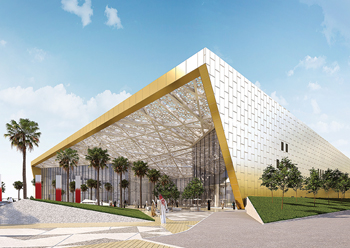 The New Exhibition and Convention Centre in Sakhir... currently 14 per cent complete.
With an order book worth BD280 million ($750 million), a sound reputation for tackling complex, fast-track projects such as both the Formula One racing circuits in the GCC, and expertise, experience and ambition to take on the region's most demanding projects, Cebarco can justifiably claim to be well geared to handle the challenges of the New Year.
The flagship of the Bahrain-based KAR Group, Cebarco stepped into 2020 with a major success, having clinched the BD83.6-million ($220.4-million) contract to build the New Exhibition and Convention Centre (NECC) at Sakhir in the kingdom, work on which has now reached an overall completion rate of 14 per cent (see Page 7).
Despite a healthy order book, with work on the new exhibition centre due for completion mid-2022, and other ongoing projects such as its Marassi Al Bahrain contract running till the end of 2021 and Tubli sewage plant work extending another 22 months, Cebarco is not resting on its laurels and is keen to take on more challenges.
Chairman and CEO of KAR Group of companies Dr Khalid A Rahim, a business magnate and a doyen of the construction industry, believes 2021 will be slow initially but insists that the pace will pick up.
Bahrain's government has spent a great deal to shore up the economy during the pandemic and Dr Rahim is optimistic of major projects being launched that could keep the wheels of construction turning.
"Bahrain is a small market. A billion dollars can make Bahrain busy for two years. It can be stimulated with the likes of the metro system, more housing, and spending on necessary infrastructure projects," he says in an exclusive interview with Gulf Construction, although he admits that infrastructure projects could suffer due to delays in funding.
"We see the market either being neutral or in consolidation over the next couple of years. There will be difficult times for some companies but we see this as a challenge to relook at our operations and analyse where we can be more productive. We are looking positively at the next couple of years," Dr Rahim adds.
Projects
Commenting on the status of work on the NECC, CEO of Cebarco Bahrain Peter Sellers says: "Given the pandemic and considering all the problems in the world, we are actually ahead of the programme overall. In terms of groundworks and concrete works, we are well ahead of programme and these works will finish early."
To ensure efficient delivery of the NECC project, Cebarco is keeping many of the activities internal to the KAR Group of Companies. Dr Rahim elaborates: "Some companies in Bahrain and within the region are struggling and not paying their staff and suppliers (due to the crisis), hence we cannot afford to have such complications on this fast-track project.
"From the beginning, we chose to have Kartec Services undertake the mechanical, electrical and plumbing (MEP) works, while KAR Façade in conjunction with some major international players look after the aluminium and glazing works. When we are in control of this, we can achieve our clients' requirements. The KAR Group is investing in these companies to ensure that they have the correct finance and facilities to gear up for this project."
Sellers says Cebarco has invested in new equipment, particularly mobile cranes, so that it can ensure sufficient lifting equipment is available. "Even when these cranes have finished their main work, they will not leave site and remain on standby to support our subcontractors," he adds.
Cebarco's other major ongoing projects in Bahrain include Marassi Galleria and the adjacent Vida and Address hotels at Marassi Al Bahrain in Diyar Al Muharraq, a masterplanned development off Muharraq (see Page 38).
"Our Marassi project is going well, although it will be a bit behind schedule because of changes, and the impact of borders being closed as a result of Covid-19, particularly impacting steel deliveries and goods from overseas," says Sellers. "The Marassi Galleria mall will complete in the second half of 2021 and Vida hotel and apartments will be handed over in the second quarter of the year.
"Marassi Galleria is a large and complex project and, as with all shopping centres, until all the tenants have moved in, there is always change as the tenancies evolve," he says, adding, "Marassi Galleria will be an amazing destination when complete, with it standing directly on the beach and so will bring a unique concept to Bahrain."
Other ongoing project include the Tubli sewage project and the Grand Canal and infrastructure at Bahrain's health and wellness island Dilmunia.
Cebarco has completed a number of contracts during 2020 including a 400 kV power supply project, the medical cluster at Dilmunia as well as the primary infrastructure and a deep gravity sewer (DGS) at Diyar Al Muharraq.
"We encountered a lot of technical issues on the DGS at Diyar Al Muharraq. We had to spend a considerable amount of money to re-engineer the issues encountered 32m below ground in very complex and difficult conditions – which is completed and is now in operation," explains Sellers.
So, what was the impact of Covid-19 on Cebarco and the KAR Group?
Sellers says Cebarco initially had problems with shipments of materials – a problem which has now been resolved but is still not back to pre-Covid conditions. Currently, international shipping costs continue to be higher.
The group has spent a great deal and has taken several measures to ensure the health, safety, wellbeing and morale of its staff, including through social distancing in the workplace. In addition, it has halved the number of staff on its buses, which are sanitised daily as are the workers' camp facilities. This apart, its EHS (environment, health and safety) team conducts lectures and toolbox talks to create awareness of how staff can keep safe and healthy during the crisis.
The health crisis and the resultant lack of business in the market has meant that suppliers have been selling material at better prices to get rid of their stock and remain operational. However, it has also meant that contractors are being squeezed to quote at rock bottom prices and in many instances below cost.
Dr Rahim cautions that these contractors and their clients will suffer later on when they find they have priced wrongly and either do not complete the project or start forwarding claims.
On the plus side, the Covid-19 health crisis has accelerated the pace of digitalisation and use of technology within the KAR Group as well as in the construction sector.
"Zoom, Teams and Amazon Chime are all new words that have now become a part of everyday life," says Dr Rahim. "There are definitely advantages of using video conferencing (VC) links during such times although there are always circumstances when a face-to-face meeting is needed.
"These technologies enable you to be more productive – and this will continue in the post-Covid era. We used to have people flying in from all parts of the world just for a general meeting – we will not see much of that."
Cebarco has also invested in building information modelling (BIM) and has produced its own BIM model of the NECC project. "Whilst this was not a contractual requirement, we believe that adopting the best technologies will help us deliver the project without having to rework. We are also looking at using 3D scanning to ensure that our as-built information correctly tallies with the engineers design and our own BIM model.
"We are adopting new technologies such as 3D scanning as we see this is a way to streamline the production of as-built information. We have been also 3D printing to scale some complex structures so that the team can visualise better what the architect is trying to achieve and to engineer solutions as to how to support such complex structures," Sellers adds.
Investments
In terms of investments, KAR Group and Cebarco, in particular, focused on renewing some of their fleet of equipment and vehicles over the past year.
"We are keeping both new and old equipment running until those activities slow down and then we will sell off the old equipment. This gives us the opportunity to reduce our running costs going forward and to be able to rely on a relatively new fleet of equipment.
"We have been rationalising our warehousing and storage with a view to minimising our stocks. We have invested in new plant/equipment and stock control systems so that we can maximise our efficient use of our assets," Dr Rahim adds.
The KAR Group will continue to expand in a systematic and organic manner and to fill gaps in the market.
"For example, we set up KAR TC, our tower crane company some 15 years ago as we were suffering from poorly managed and poorly run external service companies. It got to the stage where our progress was being so disrupted due to tower crane break downs that we took control. Initially, KAR TC was set up to service Cebarco but now it is probably the largest tower crane company in Bahrain with over 50 tower cranes available for hire to all and we are even sending equipment overseas," Dr Rahim points out.