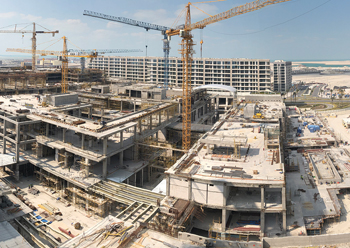 Marassi Al Bahrain ... work currently stands at 60 per cent complete.
Marassi Al Bahrain, one of the largest private urban developments in the kingdom, is well on its way to becoming a landmark of Bahrain's urban and architectural landscape, with the unique waterfront commercial and residential project currently standing at 60 per cent complete.
Works under way on the shopping, family entertainment and dining destination include the final structural works, external facades, hotel fit-out, and external road works, as well as all electromechanically works, according to Pace, a leading Kuwait-based regional multidisciplinary consultancy firm which is providing a full range of design and construction supervision services for the development.
Spanning a 165,790-sq-m plot in the masterplanned integrated city Diyar Al Muharraq, Marassi Al Bahrain will feature a high-end shopping mall, Marassi Galleria, which provides 470 retail and anchor units over a 200,000-sq-m total floor area, housing leading global brands. The mall will also contain a spectacular indoor aquarium, state-of-the-art cinema complex, a giant Carrefour supermarket and overall mall retail delivery services. Additional mall components include a multi-storey car-park, accommodating up to 6,700 parking spots – claimed to be the largest parking capacity in Bahrain.
The adjacent promenade will house two world-class waterfront hotels, the Vida and Address, each with a 300-room capacity. Both hotels will combine a range of high-end serviced residential units alongside traditional hotel services attributed to luxury hospitality including spas, gyms, premium pools and beach.
Construction of the Marassi Galleria and the hotels is being carried out by leading Bahrain-based contracting firm Cebarco (see Page 40).
Pace's scope of work also involves public space design and masterplanning works, including a beachfront, slip-lane connecting flyovers and a tunnel for mixed access and traffic management for the project component.
Pace is providing a range of services on the project including HVAC (heating, ventilation and air-conditioning) engineering, 3D design coordination, architectural design, civil and electrical engineering, construction supervision and environmental permitting.
Renowned across the region for being a firm that designs for speed and opulence whilst employing the latest innovative design and construction technologies, Pace was brought on board to undertake this prime development and deliver the project with optimum value, cost management and fast-track proficiency, says Tarek Shuaib, CEO of Pace.
Elaborating on some of the highlights of its services to the project, he says: "Pace was able to realise the architectural design approaches through adopting innovative structural applications and reliable technologies that lead to both significant savings and faster construction. This included the utilisation of precast prefabricated components and employing a structural technology, introduced for the first time in Bahrain, which allows for maximum load-bearing ability of slabs at the lowest weight.
"A multidisciplinary expert in MEP (mechanical, electrical and plumbing) as well, Pace was able to redesign the HVAC and electromechanical systems for optimised cost reductions and energy savings. The firm introduced a new type of chillers, also unused in the kingdom, that operate with the highest efficiency in the world.
"Adopting new design and building approaches and introducing new technologies, not customary in Bahrain, posed a new challenge for a large and complex project of this nature. However, Pace managed to deliver on every milestone on-the-ground via its Bahrain office, serving as a trusted consultant and well-versed problem solver for the client."
In terms of construction, Pace advised against the slower 'single-building-erection' methods and collaborated with the contractors to adopt a new and speedier way of construction, which involves completing the substructure of the entire development all at once, and going up from there, similar to 3D-printing techniques, he adds.