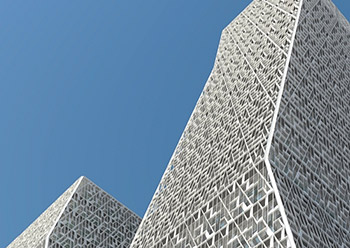 The new Sabic headquarters building in Jubail will feature BFG products.
Bahrain-based BFG group of companies, a global leader and pioneer in composite design, engineering and manufacturing, continues to focus on international expansion and new product development in a bid to take its expertise around the world.
"2021 will see the roll-out of additional partnerships, expanding the company's footprint in Europe and the US, and the opening of regional offices serving Saudi Arabia and Kuwait," Peter Walker, Director of Infrastructure, tell Gulf Construction.
Continuing its international expansion, and in response to expectations of long-term post-Covid challenges in international travel, BFG has recently established partner operations in Italy, Canada, Australia and the UK.
The BFG group of companies employs over 2,000 people and has 15 production facilities worldwide. Since the business was founded in Bahrain back in the 1970s, the compan has established itself across five continents. BFG has facilities in Bahrain, France, Spain, US, Brazil, China, India, the Philippines and South Africa, covering more than 100,000 sq m of manufacturing space and enabling the company to offer global sourcing, regionalised manufacturing, localised delivery and installation of world-class composites.
"Perhaps best known in the Gulf region for its construction products, what makes BFG genuinely different is its presence in diverse sectors which include architecture and infrastructure, rail, transportation, wind and renewable energy, environmental systems, leisure and recreation, along with a truly global footprint," says Walker.
Since 1975, BFG has worked in partnership with the world's leading architects, consultants, contractors, rail rolling stock builders, industrial process designers and renewable energy specialists – across both the public and private sectors – to create bespoke composites for a new generation of iconic buildings, industrial components and advanced transport networks: from the TGV in France to the KAFD World Trade Centre in Saudi Arabia.
BFG continues to pioneer the use of composite materials in construction, including FRP (fibre-reinforced polymers); GRC (glassfibre reinforced concrete) and, most recently UHPC (ultra high-performance concrete) with the development and launch of ForteKret by BFG Advanced Facades.
"From its origins as a structural product, UHPC is becoming more widely used in construction in architectural and cladding applications due to its significant technical and performance benefits over traditional precast concrete. BFG ForteKret uses advanced composites engineering to create exceptionally high-performance UHPC elements for use in architecture, landscaping, interiors and even furniture. Use of much smaller particle sizes than conventional precast concrete gives far higher compressive and tensile strength. The smaller particles also mean that ForteKret faithfully transfers even the most detailed relief from moulded surfaces, resulting in more accurate and finely detailed architectural representation," Walker explains.
The advanced engineered properties of composite materials allow architects and designers to realise more and more complex designs which can now incorporate long-span, lightweight three-dimensional elements.
A number of recent projects have shown just how faithfully architectural imagination can be realised, including the stunning 4.5-m curved GRC and UHPC façade and landscaping elements designed for the new ENI office building in Milan, Italy and the iconic new Sabic headquarters building in Jubail, Saudi Arabia, work on which is to start on site shortly.
Infrastructure features heavily in the company's portfolio, with work on rail stations and transport hubs a particular speciality, from work on the London Underground to the award-winning Doha Metro network for which BFG provided 40,000 sq m of FRP panels for the primary structural roofing systems and building facades, with a custom sandstone finish custom designed to represent the unique colour signature of the Qatari desert.
In line with its focus on innovation and building on its world-leading position in supply of highly sophisticated modular washrooms to the rail sector, BFG will in 2021 launch a range of FRP modular bathrooms aimed primarily at the residential, hotel and student accommodation markets.
"This is a fast growing sector and part of the trend towards offsite manufacture in construction. The company has also recently launched a non-combustible cladding panel in response to global tightening of fire regulations. The lightweight composite panel is compliant with ASTM E 84 Class A, can be formed to the most complex shapes and supplied with a range of finishes," Walker points out.
In addition, in line with its commitment to environmental issues and drive to remain at the forefront of technology, one of BFG International's subsidiaries, BFG Environmental Technologies, is currently developing an innovative, micro-wastewater treatment technology. The patented system comprises a compact membrane bioreactor, which can be integrated into an off-grid toilet cabin without requiring a municipal connection (water or sewerage), utilising an aerobic bacterial process to breakdown and treat the waste directly from the toilet on site and recover clean, safe water that can be re-used for toilet flushing, domestic purposes and irrigation.
"A system of this size and capability does not exist on the market today and the technology has applications wherever there is need or desire to conserve water or restricted access to a conventional sewerage system," Walker remarks.
BFG has recently established key partnerships with leading academic and research institutes through BFG Environmental Technologies' dedicated R&D facility in Strasbourg, France and is actively collaborating on system development, as well as other complementary technologies, including a standalone, off-grid hand-wash station capable of treating grey water for re-use within a closed loop system.
In addition, BFG has recently joined the Bill & Melinda Gates Foundation, bringing its staff's talent, engineering expertise and global manufacturing reach to the Reinvent the Toilet Challenge to help improve sanitation for those less fortunate around the world. The company vision is to deploy this disruptive, innovative technology worldwide to lead the overall attainment of sustainability goals addressing climate change, energy and water conservation, clean sanitation and resource efficiency in line with the UN's Sustainable Development Goals.
The diverse scope and global reach of BFG activities may be one of the Gulf region's best kept secrets – a global player in many key sectors, but with its heart and hub in Bahrain for over 40 years.