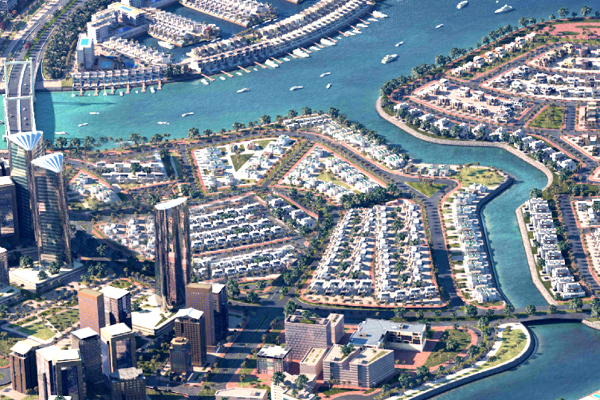 Diyar Al Muharraq, a leading real estate development company in Bahrain, has announced the launch of Al Wasem luxurious seafront and inner residential plots, within its premium integrated city in the kingdom.
This is the latest residential plan in Diyar Al Muharraq and the first estate ownership project in its northern islands.
The Al Wasem project boasts a prime location on the northern island of Diyar Al Muharraq and encompasses two types of plots: the first includes over 55 waterfront plots with sizes starting from 360 sq m. Many of Diyar's luxurious projects in the southern island also overlook the water canal, including Al Naseem, Al Bareh, and Mozoon.
The Bahraini developer said that the second type of the project includes over 75 inner plots covering approximately 300 sq m.
The launch of these plots follows the widespread success of Diyar's other residential projects in the area, including villas and plots built with modern infrastructure of the highest standards and utilizing the best quality materials.
The scope of the project includes a plethora of services that will meet the everyday needs of its residents, as well as a community center, a mosque, a playground, and several outdoor green spaces.
On the project, CEO Engineer Ahmed Ali Alammadi said, "We are delighted to announce the launch of our latest residential project, "Al Wasem," notable for its unique location and various spaces that constitute plots overlooking exceptional water canal views and luxurious inner plots."
"We hope these luxury residential plots will make wonderful homes for families who want to live in a modern and integrated city," he added.
The largest integrated residential city in the kingdom, Diyar Al Muharraq is a modern-day urban city characterized by its luxurious lifestyle and its preservation of the traditional family values of the Bahraini community.
It offers a balanced mix of residential, commercial and recreational facilities that encompass a smart, self-contained, futuristic model city.-TradeArabia News Service