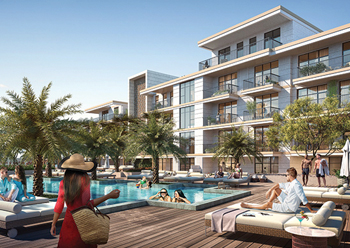 Jubail Terraces, a low-rise mixed-use community development on Jubail Island.
Top UAE developers Jubail Island Investment Company (JIIC) and Lead Development have broken ground on a low-rise mixed-use community development, Jubail Terraces, in Abu Dhabi featuring 242 apartments as well as other key amenities.
Located amid some of the UAE's most beautiful landscapes in Souk Al Jubail village, surrounded by mangroves and wildlife, these apartments at Jubail Terraces, will be in a series of low-rise, low-impact blocks and will have 23 retail units on the ground floor of each of the buildings.
To be built with attractive neutral interiors, the project was named for the expansive terraces that allow its occupants to enjoy the natural surroundings and vistas, said the developers.
In addition to properties ranging from studios to three-bedroom apartments, as well as three-bedroom duplexes, the residential community will feature retail spaces, landscaped public gardens, parking and gym facilities.
The construction contract worth AED 327 million ($89 million) has been awarded to Construction General Contracting House (CGCH) for the Jubail Terraces community, which was launched for sale in February.
As per the contract, CGCH will also be responsible for all associated amenities, while global consultancy practice Atkins has been engaged in a supervisory capacity, he stated.
Set to be completed in March 2025, the new low-rise apartment blocks offer potential residents choice and flexibility in one of Jubail Island's premium and desirable communities, he added.