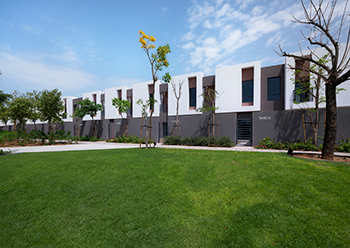 Realty firm Arada has begun handing over 114 townhouses and semi-detached villas in the Sarab 2 garden villa community at Aljada, as completions gather pace at the popular AED24 billion ($6.54 billion) Sharjah megaproject.
The completion of the Sarab 2 villa community raises the number of completed homes at Aljada to over 5,500, following the completion in December of 2,473 units at the premium student housing complex Nest, and another 1,600 homes in the East Village district of the city.
The contract to build Sarab 2 was awarded to Dubai-based RAQ Contracting in October 2021.
Arada will also start the handover process for another 600 units in The Boulevard residential complex at Aljada shortly. Around 3,200 homes are currently under construction at the Aljada site, where 25,000 units are scheduled to be built in total.
Spread over a 24-million-sq-ft area, Aljada is Sharjah's largest ever project. As well as its numerous residential districts, Aljada also contains extensive retail, hospitality, entertainment, sporting, educational, healthcare components and a business park, all set within a green, walkable master plan.
The two Sarab communities feature the only villas and townhouses in the Aljada masterplan and are designed to make the most of green parks, natural light and ventilation. All homes at Sarab come with smart home features as standard and a cooker, hood and washing machine/drier installed.