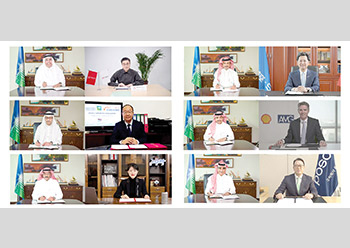 Saudi Aramco officials signed the MoUs with several international partners.
Saudi Aramco's recent announcements of new international partnerships and the establishment of companies through an Industrial Investment Program (IIP) is expected to see the construction of several industrial facilities in the kingdom.
The plans are an expansion of the state oil giant's flagship programme to increase local content and boost domestic supply chains.
Aramco has signed deals with Shell and AMG Recycling (AMG) from the Netherlands; Posco from South Korea; and Chinese firms Suzhou XDM, Shen Gong, Xinfoo Sensor and Zhejiang Supcon.
Saudi Aramco's MoUs with Posco involves collaborating on evaluating the feasibility of constructing an integrated steel plate manufacturing plant in Saudi Arabia. With an output of 42 million tonnes of crude steel (2015 figures), Posco is believed to the world's fourth-largest steelmaker.
Posco already has a joint venture construction company set up by its engineering and construction arm Posco E&C with Saudi Arabia's sovereign wealth fund PIF (Public Investment Fund).
Saudi Aramco's partnership with Shell & AMG Recycling is expected to see the development of a state-of-the-art regional hub for the recycling of gasification ash and reclamation of spent catalyst, in addition to providing sustainable solutions. The Dutch firm will explore the feasibility of building a catalyst manufacturing and recycling "supercentre" in the kingdom, which will enable Saudi Aramco to refine its crudes in an environmentally sustainable manner.
The Saudi major's tie-up with Shen Gong New Materials (Guang Zhou) will focus on developing control systems technologies for LED lighting, energy management and intelligent control.
Among other partnerships, Saudi Aramco has MoUs with:
• Suzhou XDM 3D Printing Company – to collaborate on industrial 3D printing technologies and development in Saudi Arabia;
• Xinfoo Sensor Technology Company – to explore opportunities in chip manufacturing and related technologies; and
• Zhejiang Supcon Technology – to explore potential joint investment opportunities in Saudi Arabia for the services and manufacturing value chain.