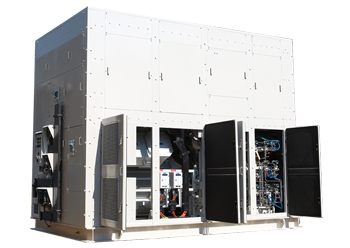 Many industrial installations require a customised compressed air solution to meet the specific needs of a site.
Complex and large-scale EPC projects are long-term commitments between the project owners, contractors and equipment suppliers, typically lasting between 12 months and two years. Close collaboration with contractors is key to meeting the needs of each development phase, construction deadlines and critical project milestones. Many industrial installations will require a customised compressed air solution to meet the specific needs of a site.
A compressed air station, fully assembled and integrated, with all the necessary pipework and cabling, is a common demand. These will house compressors, air dryers, filters, air receivers and a control system. But what factors will determine the best solution to meet the needs of an EPC project?
First of all, a thorough understanding of the technical specifications of the project is needed, covering factors such as quality standards and environmental certifications that systems need to meet. For instance, air quality standards and requirements can vary significantly, even within different areas in a plant. Nevertheless, the specified solution will need to have the right air purification equipment fitted to meet these demands.
The system's requirements are another important point to consider as vendors are expected to comply with the requirements of the specification. Deviations or exceptions to these requirements must be clearly defined in proposals. The most important technical requirements include the compressor, vacuum or blower technical descriptions, instrument air requirements and service air, connections, the type of refrigeration equipment needed, motor requirements, surface preparation and painting, electrical requirements, and instrumentation and control (I&C) demand.
Next, a thorough understanding of energy usage is key to help ensure the most efficient and cost-effective equipment can be installed as part of an EPC package. With approximately 10 per cent of industrial energy being used by a compressed air system, it is vital to ensure a system is sized correctly for the job it is required to perform. Over-specifying is unnecessary and can be costly in terms of the initial outlay and any ongoing maintenance. Instead, the compressor's performance can be improved by appropriately sizing it for the demands placed upon it. Engineers need to know the maximum and minimum air pressures, and the compressed air flow required by the system.
To simplify the installation as much as possible, it can help to mark the critical points within the package. In addition, it pays to analyse the operating parameters, power supply, the space needed, and the maintenance and control requirements.
Finally, it is essential to take into account the experience and capabilities of the compressed air supplier that a client works with. Choosing the right partners for high-value EPC projects is key to success. Without question, clients need suppliers with a comprehensive product and project portfolio, who have extensive knowledge in a wide range of EPC sectors and have excellent project management skills. The ability to adapt and be flexible enough to meet customer needs is also crucial. Furthermore, a global supplier will have the resources and capacity to ensure an EPC project is delivered on time and on budget.
Meeting demands
One project where all these considerations had to be taken into account was with the contractor Hyundai Heavy Industries (HHI). A complete compressed air system was supplied as part of its EPC contract with the Abu Dhabi Marine Operating Company for the Nasr Full Field Development Project (Package 2).
Located 130 km northwest of Abu Dhabi in the Al-Nasr oil field, the new 'super complex' by HHI helps increase the daily oil production capacity of the offshore field from 22,000 to 65,000 barrels. The facility includes a gas treatment platform, which is where the compressed air system from Ingersoll Rand is sited.
Ingersoll Rand's scope of supply included design, fabrication, supply, inspection, transportation, testing and commissioning of the compressed air equipment and plant systems. The compressed air system includes four oil-free, air-cooled rotary screw compressors, two sets of heatless desiccant-type air dryers, two DCS/ESD unit control panels and UCP (BN3500) machine monitoring systems, filters and accessories. The mechanical packages were installed outdoors on the top deck of the facility, and so these needed to be able to withstand the elements, while the control and monitoring units were located indoors.
The compressors use air-cooled technology to cool and seal the compression process, maximising the units' overall efficiency, while sealed-for-life bearings that require no oil lubrication are also used on the machines. The compressors' compact and noise-limiting enclosure helps simplify the installation process, as well as ensuring quiet compressor operation at all times.
Given its application, the compressed air system naturally needs to be able to withstand corrosion caused by salt spray from breaking waves. Therefore, all the piping within the compressor and dryer packages is 316L grade stainless steel, to help protect against the elements. The lubrication system, including the oil reservoir, also uses 316L grade stainless steel to comply with the project's specification.
Ingersoll Rand is a global leader in mission-critical flow creation and industrial technologies. The company, which now combines Gardner Denver and Ingersoll Rand Industrial, produces mission-critical flow creation systems, including air compressors, pumps, blowers, the well-known Club Car brand of electric vehicles and systems for fluid management, loading and material handling.
* Alvaro Rodriguez is Sales Manager for Europe and Africa in the Engineering Project Solutions Business Unit at Ingersoll Rand.