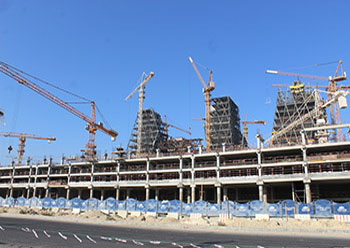 QDC has supplied products for the Sabic car-parking facility in Jubail.
Founded on unrivalled engineering expertise and building on four decades of project execution excellence in Saudi Arabia, Qanbar Dywidag Precast Concrete Company (QDC) is executing its effective role in serving the construction sector in the kingdom, with a full commitment to precautionary measures needed to overcome Covid-19.
The company, which is a leading manufacturer of precast and prestressed concrete building components and systems in Saudi Arabia, has witnessed increasing demand for its products from the industrial sector in the recent years.
"Precast and prestressed concrete is rapidly becoming the solution of choice for industrial buildings. QDC has vast experience in the design, manufacture and erection of industrial projects including pipe racks, cooling towers, electric power stations, fire-walls, boundary walls, subsea cable crossing bridges, precast rotated concrete sleepers (special weight – 86 tons), buckle triggers, duct banks, all types of precast infrastructure requirements for Saudi Aramco, different types of manholes, retaining walls, various types of foundations (up to 28 ton weight), box culverts and total precast guard houses for ultimate security and safety," says Saud A Al-Ansari, Group CEO.
Over the past 40 years, QDC has carried out numerous projects for clients in the industrial sector such as Saudi Aramco, Royal Commission for Al Jubail and Yanbu, Saudi Basic Industries Company (Sabic), Saudi Electric Company (SEC), Sadara, Ma'aden and PetroRabigh.
While the company has supplied its standard precast components including beams, columns, solid and insulated wall panels, hollow-core and double-tee slabs for these projects, QDC has also met special design requirements for blast- and bullet-resistant designs which are easily accommodated with precast concrete construction.
From staircases to full-frame building systems, QDC has also supplied a wide range of elements to numerous housing projects throughout the kingdom for prestigious clients including Saudi Aramco, Royal Commission for Al Jubail and Yanbu, Sabic and the Ministry of Housing. The company has been approved as building technology provider, Qiddiya/Riyadh site office construction with Morganti KSA, National Guard, Ministry of Defence and Red Sea Development Company (for which QDC executed its first offshore project with European Emirates Company and other different types of construction with Saudi Amana Company). QDC has also been approved as certified supplier to Neom.
The Saudi precast concrete veteran has also contributed to numerous commercial and government buildings, where its precast concrete cladding panel systems have been the solution of choice for architects, engineers, contractors and owners for many years.
"Precast and prestressed concrete has evolved as the building material and solution of choice for residential, commercial, government and industrial building construction in Saudi Arabia – and QDC as one of the largest and most prominent manufacturers in the sector is leading the industry with innovations and emerging technologies," Al-Ansari adds.
The company also offers a wide variety of standard precast concrete products including bollards, benches, planters, trash containers, wheel stoppers and manholes. Custom designs are also available, and all products are manufactured to the highest quality control standards.
QDC was formed in 1981 as a partnership between one of the leading business conglomerates in the Eastern Province, Al Ansari Holding Company (Abdul Razzaq Mohammed Qanbar Al Ansari and Sons) and one of the largest German general contractors and precast concrete manufacturers, Dycherhoff and Widmann (Dywidag). In January 2002, Al Ansari Holding became the sole owner of QDC, and Dywidag remains as a technical partner.
The company has two state-of-the-art plants in Jubail in the Eastern Province, a third plant in Rabigh in the Western Province as well as a plant in Doha, Qatar, under the Qatar International Precast banner. Together, they have a combined production capacity of more than 6 million sq m per year (2 million sq m at the Jubail factories, 3 million sq m at the Rabigh factory and 1 million sq m at the Qatar factory). These facilities are regularly upgraded and expanded to ensure they are able to meet the growing demand as well as add value to the company's products.
For instance, QDC has already installed a highly automated state-of-the-art concrete batching plant at its main factory in Jubail, and four additional hollowcore lines at its Rabigh factory. Also at the Rabigh factory, it is set to launch the construction of a new administration building, mess hall and mosque.
QDC also has sales offices in Jubail, Dammam, Riyadh and Jeddah in Saudi Arabia. It has a dedicated team of almost 2,000 employees who constantly endeavour to achieve the company's vision of providing customers with quality products and services at a competitive price while exceeding their expectations.