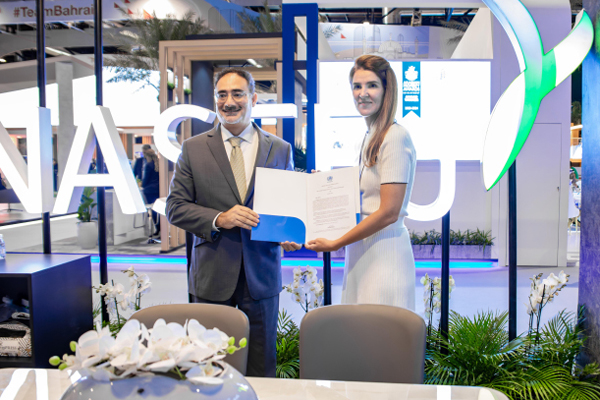 Amin Al Arrayed with Dr Dr Fernanda Lonardoni
The United Nations Human Settlements Programme (UN-Habitat) and Naseej, a leader in real estate development in Bahrain, have joined forces to foster sustainable community development initiatives.
The partnership, the first between UN-Habitat and a Bahraini real estate company, was formalised through a Memorandum of Understanding (MoU), signed on the sidelines of Cityscape Bahrain 2023 at Exhibition World Bahrain, a
GDN Online
report said.
The agreement was signed by UN-Habitat in Bahrain head Dr Fernanda Lonardoni and Naseej chief executive Amin Al Arrayed in the presence of several officials, sustainability experts, and Naseej representatives.
On the occasion, Mr Al Arrayed stated: "We are delighted to sign this significant MoU with a leading international programme to contribute to achieving Sustainable Development Goals (SDGs), in line with national development priorities. Through this partnership, Naseej aligns its strategic principles with those of UN-Habitat, committing to sustainable development and enhanced social programmes.
"In this regard, we commend the efforts made by UN-Habitat by working with partners from the government and private sectors in the kingdom to create a better urban future. Through our portfolio of quality projects, we strive for a brighter future, while continuing to work within an integrated strategy and relying on our firm commitment to constructing sustainable urban communities."
Dr Lonardoni remarked: "This collaboration with Naseej is a vital step in UN-Habitat's mission within Bahrain. The establishment of our country programme here is a direct response to the unique opportunities in the region. Working alongside partners like Naseej, our focus is to ensure that cities in Bahrain are not only inclusive and safe but also resilient and sustainable."
She added: "This partnership highlights Naseej's commitment to advancing these objectives, demonstrating a shared commitment to creating urban environments that are conducive to the wellbeing and prosperity of all residents. Moving forward, we will continue to collaborate with Naseej, the development sector as a whole, and other stakeholders to establish strategic partnerships that contribute to the kingdom's sustainable development, guided by Bahrain's Economic Vision 2030 and the Agenda 2030."