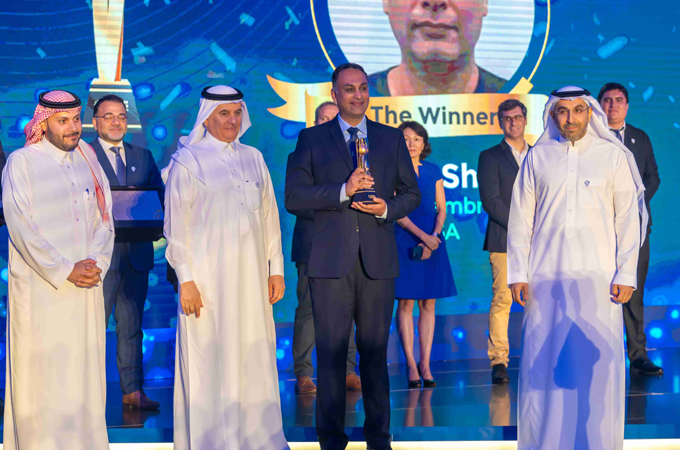 American Syed Shah from Aqua Membranes has won the grand prize at the Global Prize for Innovation in Desalination, launched by Saudi Arabia, for the project titled "Changing reverse osmosis through 3D printed spacers."
Saudi Arabia's Minister of Environment, Water and Agriculture Eng Abdulrahman Al-Fadhli honoured the winners, which included five others too.
All six winners made their presentations before the announcement of the grand prize. Special prizes were also distributed on the occasion.
Other winners of the Global Prize for Innovation in Desalination include: Arian Edalat (Active Membranes, US) for the project titled "Next Generation of Desalination Membranes"; Quantum Wei (Harmony Desalting, US) for its entry "Batch Reverse Osmosis"; and Hany Said (Mega Vessels Water., US) for the "Mega Vessel" initiative; Nick Heineman (Desolenator, the Netherlands) for the project "Desolenator: Transforming the Industry through a World-First Solar-Thermal Desalination Solution that works at Scale"; and Mohamed Anwar (Schneider Electric, France) for the "Desalination Plant Digital Twin Powered by Dynamic Process Simulation" project.
As many as 105 innovators from 27 countries competed to win prizes worth $10 million.
The award ceremony was held in the presence of the Governor of the Saline Water Conversion Corporation (SWCC) Eng Abdullah bin Ibrahim Al-Abdul Karim, and a number of senior officials and other distinguished dignitaries. It was held on the sidelines of the second edition of the Innovation in the Desalination Industry Conference that is taking place at the Jeddah Ritz-Carlton Hotel until October 3.
At the event, Al-Fadhli expressed gratitude to Saudi leadership's unwavering support for the kingdom's water sector. He then congratulated the winners for submitting projects that were recognised for innovation, quality and excellence.
As the world's largest producer of desalinated water, generating 11.5 million cu m per day, Al-Abdul Karim emphasised the significant role Saudi Arabia plays in helping address global water challenges, in collaboration with other countries, as well as in contributing to the overall growth and development of the global water sector. – TradeArabia News Service