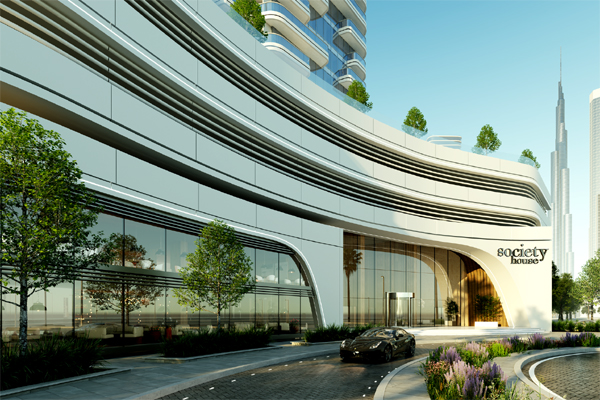 The Devmark Group, a leading real estate project sales and marketing consultancy in the UAE, and Invest Group Overseas (IGO), a Dubai-based investment and property development company, have announced the complete sell-out of Phase 1 of its 52-storey residential project - Society House - located in one of the last available plots within Downtown Dubai.
A meticulously planned development, The Society House combines contemporary architecture, bringing distinctive energy to the city's most prestigious address, said a statement from Devmark, the exclusive master agent for the sales and marketing of the project.
It offers a spectrum of residential options - studios, one-, two-, and three-bedroom fully furnished apartments along with other key amenities.
Embodying a combination of sophistication, innovation and sustainable design principles, each unit has been thoughtfully designed to promote spacious living and offer sweeping views of the city through the floor-to-ceiling glass windows, it stated.
The residential tower offers a range of amenities and facilities that will cater to its residents' diverse lifestyles. Fitness enthusiasts will appreciate the fully equipped outdoor CrossFit box and a top-tier fitness studio.
In contrast, golf enthusiasts can perfect their swing in the state-of-the-art golf simulator. The residents' lounge will serve as a communal hub for interaction and relaxation. The addition of co-working spaces and meeting rooms adds significant value to buyers and tenants that look for a work-from-home setup, it added.
On the partnership, The Devmark Group CEO Sean McCauley said: "Our collaboration with IGO on Society House extends beyond a typical partnership; it reflects trust and synergy between our organisations."
"The launch of Society House marks our third partnership with IGO, and it has proven to be one of the most successful launches of the year. Our extensive broker network has enthusiastically embraced this project, which is a product the market wants and needs. With reasonable ticket prices, a downtown address, and a post-handover payment plan, we have created the right recipe for achieving sales success," he stated.
With project completion slated for 2025, Devmark has now launched the sale of Phase 2 units.
"Leisure and entertainment are well catered for, with a horizon deck offering breathtaking views of the Dubai skyline, a 25-m lap pool, paddle courts, and a private cinema. Additionally, a dedicated children's play area ensures that residents of all ages have many recreational opportunities," noted McCauley.
Society House was launched at an exclusive event at the luxurious Atlantis Hotel Ballroom, garnering significant attention from Devmark's extensive broker network. Over 2,000 agents witnessed this highly anticipated development unveiling, further reinforcing the immense interest and anticipation surrounding Society House.
IGO Founder and Chief Executive Dr Anas Kozbari said: "We are delighted to collaborate with Devmark once again to introduce Society House, the epitome of luxury living, in the coveted setting of Downtown Dubai. Society House is set to become a distinguished icon within the city, and our unwavering commitment to quality, luxury, and sustainable practices is evident in every inch of its innovative design."
The team at IGO have worked tirelessly to bring this project to market in a record of 90 days after acquiring the plot in March this year.
"Our experience and proven track record provide a sense of comfort and confidence among buyers. We are building on the success of our future collaborations with Devmark, including Catch Residences, which is now fully sold out and The Paragon, which is nearing complete sell-out," he added.-TradeArabia News Service