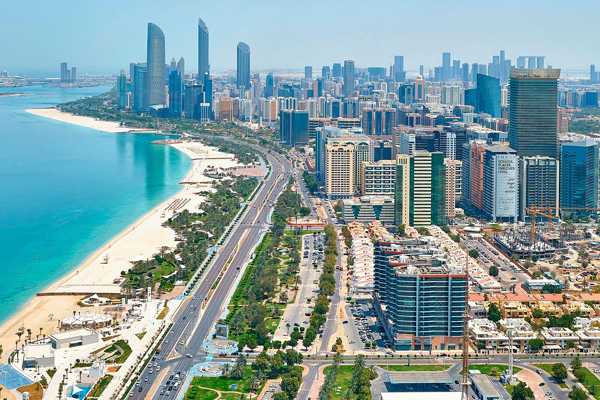 Global high-net-worth individuals (HNWI) are ready to spend $2.8 million in the real estate of Abu Dhabi, which has transformed itself into a global tourist and investment hotspot, repositioning itself over the last 15-20 years as a complementary cultural and entertainment hub to Dubai, according to leading global property consultancy, Knight Frank.
The emirate emerged as the second most popular real estate investment destination for global HNWI, behind Dubai, with 21% naming the Emirati capital as their most preferred property acquisition destination in the UAE, behind Dubai (67%) and ahead of third placed Ras Al Khaimah (5%), stated Knight Frank in its "Destination Dubai' flagship report.
Abu Dhabi's magnetism owes much to a blend of its cultural landmarks and world-class infrastructures, including Yas Island, Abu Dhabi Global Market, and Saadiyat Island.
Its reputation is further bolstered by world-class museums such as the Louvre and the upcoming Guggenheim and Zayed museums, said the report.
HNWI around the world report being positively influenced by these developments, making Abu Dhabi an even more attractive place to purchase property. Amongst East Asian HNWI, this figure rises to 70%, it added.
Faisal Durrani, Head of Middle East Research, said: "Abu Dhabi as a destination has been slowly rising in global prominence, particularly as large-scale cultural and entertainment projects such as the Louvre, Qasr Al Wattan, Ferrari World, Sea World and the Warner Bros Theme Park start to capture the attention of global travellers. And it's paying off, with 45% of global HNWI indicating that the emirate's development plans are positively influencing their view of the emirate as an investment destination."
"Moving further up the wealth spectrum reveals that those with a net worth in excess of $10 million view Abu Dhabi even more favourably as a result, with 57% of this cohort keen on investing in the city. Amongst East Asian HNWI, the figure rises further to 70%, according to our survey," noted Durrani.
Amongst them, a whopping 89% express interest in investing, notably in the residential sector.
Meanwhile, luxury residential properties such as those on Saadiyat Island have begun attracting the attention of the international elite, due in large part to highly competitive prices when compared with other high-end locations such as Dubai's Palm Jumeirah, he added.
Durrani said: "When it comes to committing to a real estate investment in Abu Dhabi, 74% are interested in exploring investment options, but the challenge, as has been the case historically has been to convert this interest into transactions."
According to him, one of the most fascinating findings has been the influence Dubai has on the perceptions of Abu Dhabi in the minds of HNWI around the world.
"The appetite of frequent visitors to Dubai to purchase real estate in Abu Dhabi stands at 73%, 50% of are willing to allocate over $2 million for a property in Abu Dhabi, with the average allocated budget being $3.7 million," observed Durrani.
"Clearly, there remains an opportunity to capitalise on this positive familiarity through perhaps more aggressive campaigns in Dubai, or indeed through the entry into the Dubai market to build greater credibility, similar to Aldar's recent JV announcement with Dubai Holding for 9,000 homes in Dubai's suburbs," he added.
Adding onto that, Shehzad Jamal, Partner – StratCon, Healthcare, Education & Real Estate, said Abu Dhabi is quickly becoming a global destination for HNWIs looking to invest in real estate.
"We expect to see this trend continue in the years to come, as Abu Dhabi becomes an even more attractive place to live, work, and invest," he added.
Destination Ras Al Khaimah
Knight Frank's destination Dubai research report also zoomed in on Ras Al Khaimah (RAK), investigating how HNWI around the world perceive the transformation of the UAE's northern most emirate into a tourist magnet.
The report notes that RAK has been transforming into a world-class tourism destination since 2004. Driven by the Investment Development Office, RAK's luxury hotels, golf courses, and extreme sports attractions are an enticing alternative to Dubai, stated the expert.
To further push the envelope, the RAK government recently announced the Middle East's first responsible gaming resort development, which is materialising in the now under construction Wynn Resort.
While the upcoming Wynn Resort and the adjoining 18,500 sqm casino on Al Marjan Island, set to open in 2027, have divided opinion, 30% of respondents say the casino would enhance their likelihood to invest in RAK property. Notably, this figure jumps to 60% among East Asian respondents, again emphasizing the region's growing interest in UAE's investment opportunities.
"Ras Al Khaimah has been quietly transforming itself over the last 10-15 years as an alternative tourist hub to Dubai and part of this plan involves the now under construction 1,500 room Wynn hotel and responsible gaming resort<' explained Durrani.
"Interestingly, 55% of global HNWI say the emergence of a gaming resort in Ras Al Khaimah does not influence their perceptions of the emirate as a place to invest, but 30% say it makes it more attractive," he added.-TradeArabia News Service