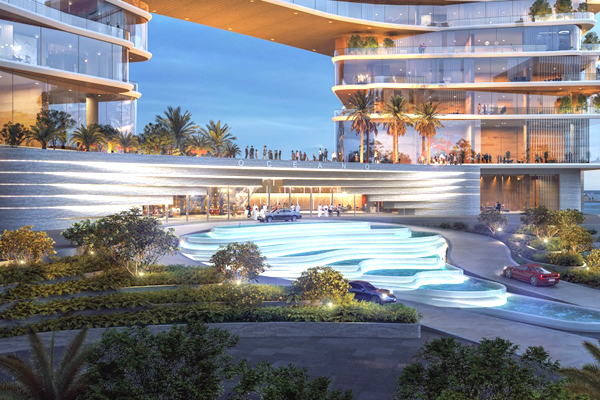 UAE-based Luxe Developers has broken ground on Oceano, an upscale twin-tower waterfront development located on Al Marjan Island, Ras Al Khaimah, stretching over 18 storeys.
The project, valued at over AED1.5 billion ($408 million), boasts 206 units with a mix of one-, two-, three- and four-bedroom apartments, six penthouses, and two exclusive sky villas, in addition to private pools as well as indoor and outdoor entertaining areas.
Oceano will be located on a unique corner plot on Al Marjan Island and spread across a Built Up Area (BUA) of 79,000 sq m.
Residents will have access to a range of amenities often associated with five-star hotels, including a luxury spa, an infinity pool connecting the two towers, a state-of-the-art gym, a cigar lounge, a library, a yoga room, a children's play area, and a chauffeur's lounge, stated the developer.
A dedicated retail level will feature 12 units offering the best in hospitality, F&B and leisure, it stated.
Outdoors, in addition to the extensive green spaces and lush landscaping, residents will enjoy a resort-style swimming pool, a dedicated children's pool, a private beach, and jetty access for those mooring yachts. A concierge and 24-hour security will also be provided, it added.
On the new project Chairman and Co-owner Shubam Aggarwal said: "As our flagship development, we are committed to delivering a project that underscores our corporate philosophy of creating luxury spaces and elevating the human experience. To achieve this, we have worked with best-in-class architects and designers to ensure Oceano stands out as the premier residential development in Ras Al Khaimah and the UAE."
"We fully expect the impeccable design and world-class amenities to attract regional and international investors and have already seen high levels of interest from buyers eager to secure their property," he stated.
Critically acclaimed Dewan Architects + Engineers, who are at the forefront of the Middle East's architectural and engineering design sector, were responsible for developing Oceano's unique design, stated Aggarwal.
"Its novel design incorporates free-flowing glass facades and minimalist frames, and with each floor rotated on different planes, every resident can maximise the uninterrupted panoramic views," he noted.
"Interiors have been designed by the renowned Hirsch Bedner Associates (HBA), a leading hospitality design firm, where a focus on marble finishes and unique accents within each of the units accentuates the luxury offering," he added.
This sentiment was echoed by Siddharta Banerji, Managing Director and Co-owner, saying: "When we first conceptualised Oceano, we wanted to create something unlike anything else that has been built on Al Marjan Island."
"Famed for its wealth of five-star hotels and soon-to-be home to the multi-billion-dollar integrated resort by Wynn Resorts, Al Marjan Island represented the ideal location and opportunity for us to launch our vision for the future of luxury residential living," he noted.
Marjan CEO Abdulla Al Abdouli said: "The bold vision of The Luxe Developers, a new entrant in the luxury property sector in the UAE, is an introduction to the concept of luxury living for residents on Al Marjan Island."
"The exclusive amenities and exceptional lifestyle of the ultra-luxury project strengthens Al Marjan Island's appeal as a preferred investment hub and reflects the tremendous potential for growth offered by the master-planned community," he added.-TradeArabia News Service