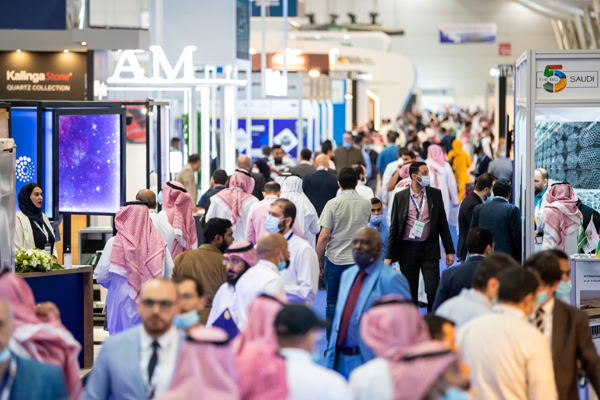 More than 750 exhibitors from 40 countries across the globe will be in Riyadh to showcase the latest in building innovations and technologies at Big 5 Saudi, the largest construction event in the kingdom, which kicks off on February 18 and runs for the next three days.
As the second largest non-oil sector in Saudi Arabia, the construction industry plays a pivotal role in driving the kingdom's economy forward, and The Big 5 Saudi serves as a platform to promote and support this growth, said the event organisers dmg events.
This year's event features eight product sectors, including building envelope and special construction, building interiors and finishes, construction technologies and innovations, building materials and tools, solar and MEP services, plant machinery and vehicles, off-site and modular construction, and building security and access control.
The 11th edition of The Big 5 Saudi will bring together 28,000+ attendees to the Riyadh Front Exhibition and Conference Center, said the organisers.
Doubling in number of exhibitors since its 2022 edition, this year's event will gather over 15,000 products and solutions and welcome a host of new-to-show brands, such as Saleh Ibrahim Aldohan, Gulf Factory for Insulation Panels, CPC Holding, Llbna Fnoon, Rkiza Building Materials, Saudi Services Company, Rheem Manufacturing, Lattice Software Solutions, Al Jazirah Falcon, and Masdar.
In January 2023, there were $298 billion in real estate projects under construction. By the end of 2023, intelligence firm ABiQ expects the Saudi real estate construction market to grow by 9% to a total of $324 billion.
This total includes completing $18 billion of real estate projects this year. With an ambitious array of giga and mega projects regularly announced across the kingdom, the construction industry globally is tasked to dramatically scale the production and distribution of products across all project stages to meet this tremendous demand.
"The Big 5 Saudi is a premier event that brings together industry professionals from around the world to showcase the latest advancements and innovations in the construction sector in Saudi Arabia," said Muhammed Kazi, VP - Construction, dmg events.
"With a focus on the projects shaping the future of Saudi Arabia, and a commitment to showcasing the latest technologies and advancements, The Big 5 Saudi is a vital event for anyone looking to be at the forefront of the construction industry in the kingdom," he added.
Accordng to him, The Big 5 Saudi continues to serve as a true testament to the KSA's growing attractiveness in the global construction arena, bringing together industry players in support of its ambitious Vision 2030 objectives.
Twelve country pavilions will shine the spotlight on construction solutions. These are Italy, Germany, Spain, India, Greece, Poland, Egypt, China, Kuwait, Turkiye, Qatar and Austria, he added.
The trade exhibition is once again accompanied by specialist events HVAC R Expo Saudi, Surface and Stone Saudi Arabia, and FM Expo Saudi, said dmg events.
In co-location with these established brands, the inaugural editions of two additional events servicing the construction industry will take place.
"We are thrilled to announce that the Windows, Doors & Facades and Saudi Glass events will be launching next to The Big 5 Saudi this year. This decision was made easy by the immense interest we received from leading building envelope brands, coupled with our previous success running these events in other markets," remarked Kazi.
"We believe offering these world-renowned brands a robust platform to meet the booming local demand for their products is a great opportunity as we strive to help the Saudi government and industry stakeholders to achieve their ambitious development targets," he added.
In its largest and most international edition ever, The Big 5 Saudi will be bustling with industry networking opportunities, as well as visitor experiences and 40 free-to-attend CPD-certified Industry Talks.
According to Kazi, the anticipated educational programme will gather onstage over 50 innovators, architects, project and facilities management practitioners and technologists, including Engineer Waleed Akhtar M Sultan, General Supervisor for Classification Development, Project Management and Performance Follow-up, Ministry of Municipal, Rural Affairs and Housing (Momrah); Jason Morris, Managing Director- Project and Construction Management Division, KEO International Consultants; Mohammed El Khamissy, Group Chief Finance Officer and Advisor to the Board, RC Al Mana; Engineer Grace Najjar, Managing Director, PMI Mena; Andrew Jones, CDR Partner, Dentons and Rick Hopper, the MD of Mott MacDonald Saudi business and Chair of Saudi Chartered Institute of Building (CIOB) Hub.
These and other experts will present on impactful topics such as disruptive project management trends, the best use of technology in managing projects, and public-private sector collaboration on design, he added.
The 2023 edition is sponsored by industry leaders including Afaq Wood Industries Factory, Bluu, Carrier, Saudi Services Company Limited, Zamil Industrial, SABB, Al Bawani, Midea and Sraco.
Key event media and supporting partners feature PMI, CIOB, Mefma, ACI, AIA Middle East, Gulf Construction, CNBC Arabia, Arab News, Eye of Riyadh, Al Riyadh, Al Watan, Saudi Projects and Amlak Real Estate Newspaper.-TradeArabia News Service