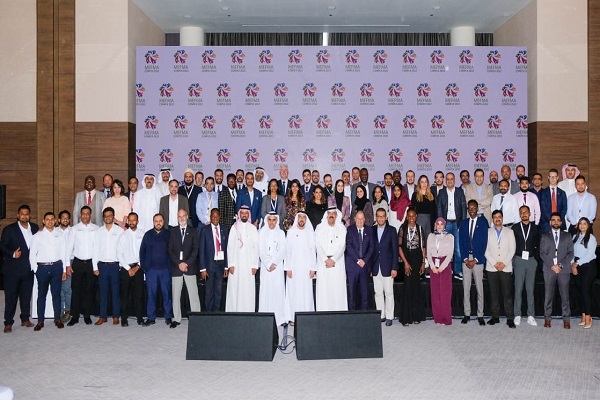 Middle East Facilities Management Association (Mefma) has announced that its key event Confex 2022 ended on a high note in Dubai with industry leaders and experts coming together to identify new opportunities and prospects for the future of the FM sector.
The Confex 2022, the region's largest facility management (FM) event, took place from March 14 to 17, with the participation of over 500 industry professionals, experts, and government representatives.
Engineer Dawood Abdul Rahman Al Hajri, Director General of Dubai Municipality, led the inauguration ceremony, which was followed by a series of workshops, presentations, and panel discussions on industry-related topics.
The welcome address by Jamal Lootah, Co-founder and President of Mefma, highlighted the sector's potential for rapid growth due to the need for efficiency and cost-effectiveness in operations, and how it promotes growth through such events.
The opening day included a series of workshops that presented the latest FM initiatives in digital building and artificial intelligence for the future of FM.
The second day featured a wide range of segments, with industry professionals providing insights on key topics through panel discussions, namely 'FM Transformation Strategy – What Does it Take' and 'Technology and Data Driven Facility Management – The Core of Business Excellence and Sustainability.'
The event further included three streams that had presentation under various topics by FM industry experts.
Additionally, the event featured case studies that highlighted concepts such as the technological transformation in FM and the leadership roles towards adopting technology.
The last two days of Confex consisted of site visits to the ongoing Expo 2020 Dubai, where participants interacted at various pavilions to gain insight and inspiration.
A key highlight of this year's expo was the first Mefma Awards of Excellence in FM 2022, held on March 14. These awards were launched with a vision to promote best practices in the FM industry and drive innovation in the coming years.
It covered various categories such as customer-centric FM, digital transformation, education and development, health and safety, sustainability and energy management, and technology implementation in FM industry.
The winners of the Mefma Awards of Excellence in FM 2022 include: Musanadah Facilities Management in the Customer-centric FM category, Emrill Services (Education and Development in FM category), AG Facilities in the Health and Safety in FM category, Engie Solutions in the Sustainability and Energy Management in FM category, Initial Saudi Group in the Digital Transformation in FM category, and Imdaad in the Technology Implementation in FM category.
The winners were selected based on a distinct set of criteria such as creation, evolution and sustainability, innovation and advancement of FM, corporate outcomes, leadership and success in FM operations, and contributions to FM worldwide, and were acknowledged for their significant contributions to the industry.
Lootah said it was another successful year in pushing for innovative transformation in the FM sector, especially through organising the awards for the first time.
"As part of our first Mefma Awards of Excellence in FM 2022 ceremony, we are proud that we have successfully recognized and rewarded members for showcasing their dedication to the industry. We congratulate all the winners and encourage all to keep working with the same spirit. Our efforts to honour notable contributions will continue in the future, in order to encourage growth and innovation in the FM sector," he noted.
"Moreover, the experience of meeting creative minds and gaining insights from industry professionals has been rewarding, and we look forward to hosting more events in the future, given the success of this year's event," he added.
Mefma Confex 2022 provides an ideal opportunity for the FM industry to identify new ways and opportunities for growth, as well as drive innovation for the industry's future.
Ali Al Suwaidi, Vice President of Mefma and Global FM Vice Chair, said: "It has been inspiring to see this year's event turn out to be a success again, with many new ideas being presented, as well as discussions on prevailing issues. We are pleased to see the positive feedback from attendees who enjoyed the workshops and discussions that were organised."
"This year's event was also notable for our inaugural Mefma Awards of Excellence in FM 2022. Recognition and acknowledgement of members' contributions are crucial, and we are pleased to have done so with the Mefma Awards 2022. We hope to take this culture forward and continue to innovate within the sector," he added.