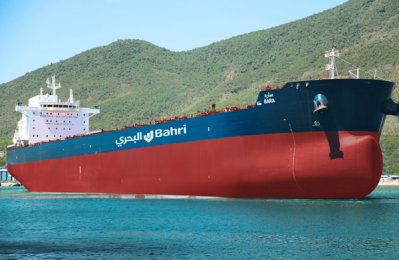 Bahri, a global leader in logistics and transportation, is showcasing its maritime capabilities and innovative solutions at the fourth edition of the Naval Defense and Maritime Security Exhibition (Navdex 2021), which is being held in Abu Dhabi alongside the International Defence Exhibition and Conference (Idex 2021)
Bahri Logistics, one of the five business units of Bahri, is displaying its state-of-the-art maritime competencies and innovative solutions at Navdex 2021, a key event featuring over 100 international exhibitors, including leading maritime security and logistics companies from 27 countries worldwide.
On the company's participation in Navdex 2021, CEO Abdullah Aldubaikhi said: "Bahri's growing capabilities in the logistics sector strengthens our reputation as one of the leading providers of industry-leading door-to-door freight forwarding and logistics services."
"By participating in Navdex, Bahri Logistics has taken an important step to diversify its maritime capabilities, explore new markets and opportunities, and enhance its operational efficiency. This is also important for our endeavors to support the Saudi Vision 2030 objectives that aim to transform Saudi Arabia into a leading regional logistics hub and enhance maritime security," he stated.
Bahri Logistics is also showcasing during Navdex 2021 other solutions, including cargo delivery to remote destinations, chartering vessels and aircraft to transport military cargoes, ground handling charter flights, and obtaining overflight and landing permits for civil airports and military airbases.
The show also enabled Bahri to explore opportunities in terms of new markets, strategic partnerships, and acquiring cutting-edge technology and equipment.
Bahri Logistics is Bahri's most established business unit and a global top-10 breakbulk carrier. It operates six new state-of-the-art multipurpose vessels that are capable of carrying different types of cargo, including project, ro-ro, breakbulk, and container cargo.
The business unit has been offering an electronic system to track all shipments from the country of origin to the final destination since 2017.-TradeArabia News Service