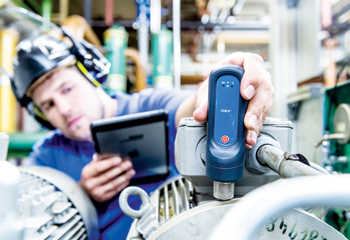 Developed with more than 30 years of SKF critical machinery protection experience, IMx-M is a state-of-the-art solution for the petroleum industry designed for protecting and enhancing the reliability of critical machinery

MONITORING FOR CRITICAL ROTATING EQUIPMENT
ACHIEVING and maintaining optimal performance, efficiency and safety in the petroleum industry requires state-of-the-art components, processes and technologies in which world-class protection and monitoring of critical rotating machinery plays a key role.
To that end, SKF presents the latest addition to the current generation of powerful, cost-effective solutions suitable for a variety of machinery monitoring applications, including in the petroleum industry: the Multilog On-line System IMx-M.
Together with SKF @ptitude Observer software, the SKF Multilog IMx-M is a complete API670 compliant solution that can provide a complete system for initiation of machinery shutdown, early fault detection and diagnosis.
In addition, the SKF Multilog IMx-M system can provide automated advice for correcting existing or impending conditions, which can affect machine reliability, availability and performance.
Some of the Multilog IMx-M key features for machine protection include a 19-inch rack format with up to 64 analogue inputs (dynamic and static) and up to 96 relay outputs per rack, multiple transducer types, TSI measurements, simultaneous measurement of all input channels, redundant Modbus RTU communications and flexible voting logic.
Multilog IMx-M also features machine condition monitoring independent of machine protection, as well as a DC to 40 kHz frequency range, overall level and vector processing, multi-parameter gating, SKF Acceleration Enveloping (an SKF technique used to detect impact based defects), data buffering in non-volatile memory, pre- and post-event data capture and many other class leading characteristics, including seven different CMON modules.
Included with every unit is the SKF Multilog IMx-M Manager, a 'stand alone' software tool for configuring and setting up the SKF Multilog IMx-M.
In order to simplify the task of configuring the SKF Multilog IMx-M, it provides a user-friendly interface with logically ordered function and module layout.
Along with a test function, live displays, alarm/alert and measurement limits visualisation, it includes built-in rules that will give out a warning if settings are out of range or unsafe. It supports the SKF Maintenance Mode, which allows to test all inputs on the system with a live display, aid in verifying relays and their corresponding logic, and allows to generate a SAT (site acceptance test) report.

MONITORING FOR CRITICAL & SEMI-CRITICAL ROTATING EQUIPMENT
 For more flexibility, SKF also offers smaller condition monitoring systems ideal for planning machine maintenance. The SKF Multilog On-line Systems IMx-8 and IMx-16 Plus are compact (book-sized) and lightweight (450 to 900 g) devices, which provide a complete system for early fault detection.
The IMx-8 and IMx-16 Plus offer 8 (16) analogue and 2 (4) digital channels, with connectivity to mobile devices (both iOS and Android) and networks for easy configuration and monitoring.
Machine intelligence from IMx data helps avoid unplanned downtime and schedule maintenance proactively, prolonging machine availability and minimising maintenance and repair costs.
 The IMx-8 and IMx-16 Plus integrate easily with other IMx units and can connect with the SKF Cloud for storing and sharing data, enabling SKF Remote Diagnostic Services for expert reporting and recommendations.
Furthermore, the combination of SKF @ptitude Observer software with data acquisition devices, such as the SKF Multilog On-line System IMx-8 and IMx-16 Plus, delivers a powerful and flexible condition monitoring solution across many industries, including the petroleum industry.
The system design supports fast data storage across hundreds of monitored machines and allows an unlimited number of hierarchy levels. Process overviews and workspaces allow users to access the key information needed.
SKF @ptitude Observer provides wizards for users to quickly set up and maintain machine and measurement configurations. Setup functions that would once have required direct access to the data acquisition device can now be accomplished remotely, over TCP/IP.
The expert diagnostics and analyses provide unrivalled application insights to maximise rotating equipment performance (REP). This allows the business to be more agile, deliver greater output, optimise safety, reliability and sustainability.

MONITORING OF REST OF PLANT ROTATING EQUIPMENT
As the Industrial Internet of Things (IIoT) continues to grow, plants can take advantage of a range of exciting new technologies that can not only improve performance and reliability, but also free up skilled workers to focus on important tasks. One such example is the SKF Enlight Collect IMx-1, a scalable and easy to set up mesh sensor network for data collection, available on a fee and performance based contracts.
The SKF Enlight Collect IMx-1 system consists of an autonomous battery powered wireless vibration and temperature sensor, a line powered communication and network manager gateway, a host software for data trending visualisation and analysis, and a mobile phone app for sensor and gateway commissioning.
The sensor is a data-collector and radio combined into one compact battery operated device. It measures and processes vibration and temperature for detection of common issues with rotating equipment.
Smarter maintenance starts with robust data – the more the better - but if that sounds complicated, it doesn't have to be. The SKF QuickCollect sensor makes machine data collection simpler and more cost-effective.
This easy-to-use, handheld, portable vibration and temperature sensor is combined with mobile apps that reduce the complexity of data collection and analysis so that you can detect machine issues before they cause failures and impact on your business.
The SKF QuickCollect sensor is ideal for service, operation and maintenance personnel as part of a mobile inspection program.