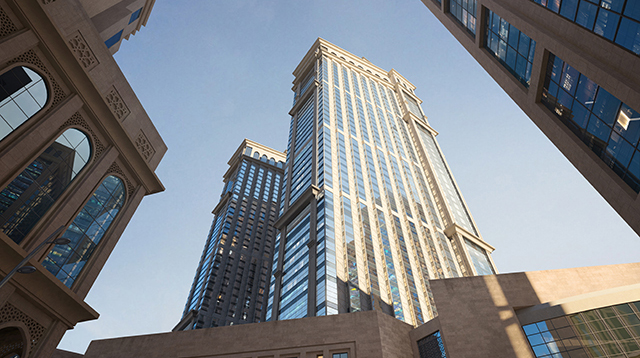 Address Jabal Omar Makkah, which boasts an impressive 1,484 rooms and suites, opened in July this year.
A total of 16 hotels with 3,892 rooms opened in the Middle East during the first half of 2023 with a further 93 new hotels with 21,306 rooms scheduled to open by the year-end, according to a recent Middle East Hotel Construction Pipeline Trend Report.
However, the region's total pipeline of hotel projects indicates that a whopping 597 projects with 146,521 rooms are yet to open to their guests – a number that seems to be rising steadily, given the pace of hotel announcements made in the Middle East. During the second quarter, these figures were up 10 per cent and five per cent, respectively, year-on-year (YoY) – registering the highest project count since Q1 2020, according to the report which was produced by Lodging Econometrics (LE), an industry-leading provider of global hotel intelligence and contact information.
At the close of the second quarter, projects under construction stood at 330 with 90,619 rooms. Projects scheduled to start construction in the next 12 months increased 17 per cent YoY to 102 projects with 23,909 rooms. Projects in the early planning stage increased 31 per cent YoY, reaching their highest levels since 2008, to stand at 165 projects with 31,993 rooms.
Middle Eastern countries with the largest number of projects in the construction pipeline at the Q2 close were led by Saudi Arabia, with an all-time high of 276 projects and 72,144 rooms. Next up was the UAE with 106 projects with 27,921 rooms, followed by Egypt with 91 projects/20,814 rooms, Qatar with 43 projects/10,267 rooms, and Oman with 33 projects/6,792 rooms. Ninety-two per cent of the hotel projects in the Middle East's current pipeline are located within these five countries, according to the report.
Dubai's construction pipeline consists of a significant portion of the projects in the UAE's total pipeline with 67 projects/19,200 rooms. Other notable, yet distantly following emirates are Ras Al Khaimah with 15 projects/4,464 rooms and Sharjah with 13 projects/1,766 rooms.
Three of the top five cities with the largest pipelines are located in Saudi Arabia and comprise 42 per cent of the projects and 36 per cent of the rooms in the total Middle East construction pipeline. These cities leading in project counts at Q2 are the Provincial region (Neom, Red Sea, etc) with 113 projects/25,312 rooms, Riyadh with a record-high 86 projects, accounting for 16,618 rooms, and Jeddah with 50 projects/10,995 rooms. These are followed by Doha, Qatar with 38 projects/9,383 rooms, and Cairo, Egypt with 32 projects/7,287 rooms.
Hotel chains with the largest construction pipelines in the Middle East at the close of the second quarter were Hilton Worldwide hitting record project counts of 104 projects/25,785 rooms, Accor with 79 projects/17,798 rooms, Marriott International with 78 projects/23,534 rooms, IHG Hotels & Resorts with 55 projects/12,974 rooms, and Radisson Hotel Group with 23 projects/4,686 rooms. The five companies combined account for 57 per cent of the projects in the region's total pipeline.
The leading brands in the pipeline for these major hotel companies at Q2 are the Doubletree by Hilton with a record 29 projects with 6,418 rooms, next is Accor's Novotel with 11 projects/2,351 rooms, then Marriott's Courtyard with 14 projects/3,735 rooms. These are followed by IHG Hotels & Resorts' InterContinental brand with 13 projects/3,546 rooms and Radisson's Blu brand with 9 projects/1,585 rooms.
In 2024, the report anticipates the number of new hotel openings to rise to 113 projects with 28,857 rooms, and 97 projects with 18,914 rooms are expected to open by year-end 2025.