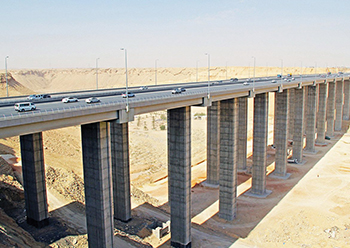 Sajco's project portfolio includes several bridges, tunnels and underpasses.
With an order book that comprises around 90 active projects spread throughout the kingdom – right from Jubail to Tabuk and from Riyadh to Madinah – and experience that spans over five decades, veteran contractor Shibh Al Jazira Contracting Company (Sajco) continues to deliver some of the most prominent infrastructural developments in Saudi Arabia.
Established in 1965, Sajco is a reputed Class One contractor that has successfully completed a gamut of projects involving road construction and maintenance, construction of bridges, tunnels, underpasses, dams, buildings, sewage and water supply networks, water and fuel strategic reservoirs, dewatering and piling works, and much more.
Last year alone, it completed 64 projects of various sizes, some of which were delivered for entities of the Public Investment Fund (PIF), the sovereign wealth fund of Saudi Arabia, as well as transportation infrastructure projects for the Ministry of Transport and projects for a number of municipalities across the kingdom, Zyad Suleiman, Managing Director of Sajco, tells Gulf Construction.
"Currently, we have 86 active projects ranging from maintenance to construction. For instance, we are building a number of hotels in Madinah in response to the rapid growth in the number of pilgrims; and we are delivering several projects for PIF entities as well as carrying out the usual maintenance contracts all over the kingdom. This is in addition to new projects that we have just been awarded to reshape the city of Riyadh," adds Suleiman.
One of the unique strengths of this leading contractor is its ability to deliver unparalleled levels of diversity in its core business while still maintaining quality and safety. Over the years, the company has completed many landmark projects in Saudi Arabia that highlight its technical expertise and ability to complete complex projects successfully. These include Riyadh Ring Road (North-West Leg), Qassim-Hail Expressway, Third Industrial City in Jeddah, Prince Turki Bin Abdulaziz Al Awwal Road in Riyadh, improvement and development of Anas Bin Malik Road with bridges and underpasses in Riyadh, Wasit Bridge across Abu Hadriyah Highway in Jubail, dams in Asir region, water transmission line in Asir region, sports complex in Arar City, construction of buildings for Hail University, access road to Qiddiya project, and King Salman Energy Park.
Sajco has been making significant strides in recent years with its strategic investments and expansions that have helped to position the company as a key player in Saudi Arabia's construction industry. It has embraced joint ventures (JVs) as a key path to growth, currently having five active JVs with reputable local and international construction partners. Sajco plans to expand this approach to deliver mega/giga projects in the future and continue its growth trajectory in the coming years.
"The benefits of this approach include the exchange of expertise among relevant parties and innovative solutions to complex problems arising from the special requirements of mega projects. Additionally, it ensures robust quality processes and finished products," says Wakkas Ismail, Director, Joint Ventures & Partnerships of Sajco.
Sajco has also grown both vertically and horizontally to support its core contracting business. The company has set up various manufacturing and trading facilities over the years, including 17 asphalt batching plants, 24 concrete batching plants, 14 stationary crushers, two precast factories, and one granite factory.
In addition to these facilities, Sajco has subsidiaries and affiliated companies that complement its line of business. These companies include Envirotec, which specialises in commercial solid waste management, wastewater treatment solutions, and geotechnical instrumentations; Deep Foundation, which specialises in driven piling, drilled piling, ground improvement, grouting, and shoring; Izomaks, which manufactures waterproofing membranes; and Sajtec, which provides Intelligent Transport Systems (ITS) services to a wide range of clients.
Timely delivery
Sajco is committed to on-time delivery and quality processes and finished products. The company ensures that projects are delivered on time and within budget through a well-defined strategy that involves defining clear project objectives, developing a detailed project plan, efficient resource allocation, effective communication, regular progress monitoring using project management tools, and post-project reviews to identify lessons learned and areas for improvement, according to Ismail.
The company identifies and manages risks through early identification, thorough risk assessment, and regular review and update of risk registers. In terms of safety, the ISO45001:2018-certified organisation follows industry standards and regulations, develops safety protocols and compliance measures based on specific project requirements, and regularly reviews and updates its safety measures to align with identified risks and potential project issues.
Sajco's commitment to quality control and quality assurance is evident in its adoption of a self-compliance approach and its adherence to ISO 9001:2015 standard. It has established stringent quality control and quality assurance (QC/QA) standards to ensure the delivery of high-quality projects to its clients, says Ismail.
To ensure compliance with quality standards, Sajco has implemented several tasks and processes aligned with industry best practices, local regulations, and client requirements. It sets clear quality objectives for each project, which are communicated to all team members and stakeholders.
To continuously improve its QC/QA processes, Sajco conducts internal audits to assess the effectiveness of its quality management plan and identify areas for improvement and also promotes a culture of quality among all project stakeholders.
The company utilises digital tools and technologies to manage project timelines, budgets, and resources to ensure the delivery of high-quality projects that meet or exceed client expectations.
"We understand the importance of the digitalisation in streamlining our processes, enhancing communication and improving project management. Therefore, we have a dedicated in-house team responsible for managing the building information modelling (BIM) technology," Ismail points out.
Environment
In line with the current focus on sustainability and environmental protection, Sajco is also an ISO 14001:2015-certified organisation. "We very well understand the environmental and sustainability requirements globally and in Saudi Arabia and the need to have a holistic approach while delivering projects, not just from a construction progress, quality or safety perspective but also from other requirements in the equation. We have established robust compliance processes to ensure adherence to relevant regulations and standards related to sustainability and environmental protection," he adds.
Citing an example, he says: "We have adopted a number of initiatives at our quarry sites to ensure that all the products processed at our crushing plants are put to maximum use in various applications and that dust control operations are implemented to mitigate any environmental impact. Another recent example of our commitment to sustainability is that we relocated a significant number of trees in one specific project as part of the environmental protection requirements."
The contractor is also aware of the need to use environment-friendly building materials, energy-efficient construction practices and renewable energy sources, optimise water usage, implement waste reduction and recycling programmes, and comply with green building standards such as LEED (Leadership in Energy and Environmental Design).
In terms of technology, Sajco has ambitious plans to implement 3D printing in its operations and work is in progress in this regard, Ismail reveals.
Saudi market
Commenting on the challenges faced by contractors in the Saudi market, Ismail says these include procuring materials and equipment due to the complex supply chain logistics, price fluctuations, limited local suppliers, and financial challenges.
"Addressing these challenges requires diversifying supply sources, conducting market research, establishing quality control measures, and working closely with suppliers, logistics providers, and financial institutions. It's vital to work closely with financial institutions to negotiate favourable payment terms, and leverage appropriate financing options," he says.
Staff retention is also a challenge due to the competitive job market. To address this, firms can implement competitive compensation and benefits packages, provide opportunities for career growth and development, foster a positive work culture as well as establish effective communication channels to bridge any language or cultural gaps, and hire local talent or work with experienced local partners, he adds.
Commenting on the potential of the Saudi market, Ismail says the trend towards ambitious mega projects in various sectors will continue, driving demand for materials, equipment, and services in the construction and engineering sectors. Additionally, there will be a continued emphasis on sustainability and renewable energy, with potential changes in regulations, policies, and market dynamics to promote and support such projects.
"Moreover, the construction and engineering industry will increasingly adopt advanced technologies such as BIM, drones, robotics, and artificial intelligence, to improve productivity, efficiency, and safety. The Saudi government's localisation initiatives will also continue to increase the participation of local companies and workforce in the industry, with potential changes in regulations, incentives, and requirements."
The construction and engineering industry in Saudi Arabia is dynamic and competitive, he adds.
"I foresee a shift in the market dynamics and competition over the next five to 10 years, with potential changes in market share, pricing, and customer demands. This may require companies to adapt their strategies, business models, and operations to stay competitive in the market," he concludes.