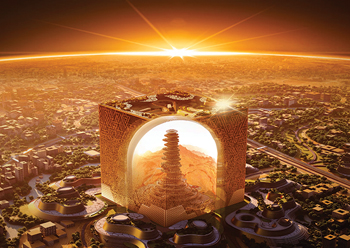 The Mukaab, an iconic landmark within the New Murabba.
What is designed to be the world's largest modern downtown is set to take shape in Riyadh, covering an area of 19 sq km at the intersection of King Salman and King Khalid roads in the north-west of the Saudi capital.
The New Murabba project, as it is called, will offer more than 25 million sq m of built-up area, comprising over 104,000 residential units, 9,000 hotel rooms, and more than 980,000 sq m of retail space. It will also feature 1.4 million sq m of office space, 620,000 sq m of leisure assets, and 1.8 million sq m of space dedicated to community facilities.
Designed to accommodate hundreds of thousands of residents and to be built around the 15-minute city concept, the project will focus on sustainability and will feature green areas and walking and cycling paths to promote healthy, active lifestyles and community activities. It will also include an iconic museum, a technology and design university, a multipurpose immersive theatre, and more than 80 entertainment and culture venues.
The New Murabba project will offer a unique living, working and entertainment experience within a 15-minute walking radius and will have its own internal transport system. It will be a 20 minutes' drive from the airport.
Anchoring the project is the "Mukaab", an iconic landmark featuring the latest innovative technologies. The Mukaab is expected to be one of the largest built structures in the world, standing 400 m high, 400 m wide, and 400 m long – large enough to fit 20 Empire State buildings.
Inspired by the modern Najdi architectural style, the Mukaab will be the world's first immersive destination offering an experience created by digital and virtual technology with the latest holographics.
The cubic shape of the Mukaab will ensure the optimum utilisation of space to accommodate the technologies necessary to develop the icon. It will encompass a tower atop a spiral base, and a structure featuring 2 million sq m of floor space that will be a premium hospitality destination with a multitude of retail, cultural and tourist attractions, along with residential and hotel units, commercial spaces, and recreational facilities.
To spearhead this latest ambitious project, Saudi Arabia's Crown Prince Mohammed bin Salman recently announced the launch of the New Murabba Development Company. The project, due to be completed in 2030, is expected to add SR180 billion ($48 billion) to non-oil GDP and create 334,000 direct and indirect jobs by 2030.