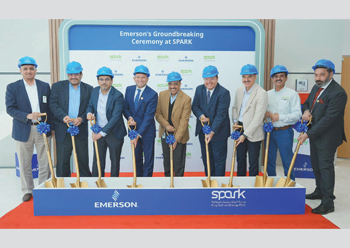 Officials at the ground-breaking ceremony.
Emerson, a global technology, software and engineering powerhouse, has broken ground to build a state-of-the-art innovation and manufacturing hub at the King Salman Energy Park (Spark) in the Eastern Province, further expanding its local capabilities.
The facility will be one of the largest investments in the Middle East and Africa region for the company.
The facility, which is slated to open by December 2024, will provide industrial customers in the region with services for control systems engineering, staging and testing, manufacturing of differential pressure (DP) transmitters and control valves, pressure relief valve assembly and solenoid valve assembly.
The project demonstrates Emerson's continued commitment to its customers and stakeholders in Saudi Arabia as the company prepares for rapid local manufacturing expansion in the region. The new facility will be developed in accordance with the environmental sustainability principles to support the company's net zero emission goals, while also adhering to Spark's environmental sustainability standards, said a statement.
Emerson's construction of an innovation and manufacturing hub at Spark aligns with Saudi Arabia's 'Saudi Vision 2030'.
The groundbreaking ceremony was attended by Lal Karsanbhai, President and CEO of Emerson; Vidya Ramnath, President of Emerson Middle East and Africa; Hussein Zein, Vice-President and General Manager of Emerson Saudi Arabia and Bahrain; Nabil Chaachou, Vice-President strategy and business development of King Salman Energy Park, senior executives from Saudi Aramco, and other company officials and local VIP customers.