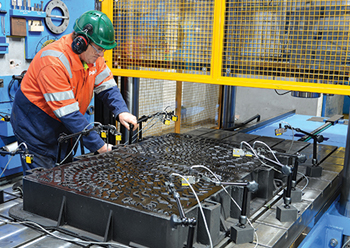 Every aspect of the manufacturing operation has quality and HSE management systems.
The Middle East is now the primary export market for Saint-Gobain's PAM and Brickhouse ranges of ductile iron access covers and gratings, according to the Dubai-based Mac Al Gurg, a part of the Easa Saleh Al Gurg Group, which is the exclusive distributor of these products in the UAE.
"The PAM and Brickhouse ranges are the the first choice for clients within the infrastructure, water and utilities sectors and are used in some of the most challenging environments around the world," said Rafat Al Fahoum, CEO of Mac Al Gurg. "Products within the Brickhouse and PAM ranges have been exported to the Middle East for over three decades and the region has now grown to be the brands' primary export market."
Saint-Gobain, part of Compagnie de Saint-Gobain, is one of the world's largest industrial groups with global expertise in research, development and production of pipelines. Saint Gobain PAM, the pipeline division of Saint-Gobain group, manufactures and exports ductile iron pipe systems for hydraulic networks. The PAM and Brickhouse ranges of access covers and gratings castings are manufactured at the company's Holwell facility in Leicestershire, UK.
"Every aspect of the manufacturing operation has audited quality, environmental and health and safety management systems and fully satisfy the most stringent industry and legislative standards. In addition, all products are third-party assessed and approved as per all relevant worldwide regulations and standards," Al Fahoum pointed out.
Saint-Gobain PAM UK is a major recycler of ferrous scrap and, wherever possible, sources other raw materials that are the waste or by-products of industrial processes. By doing this, the company aims to minimise its impact on the environment and consumption of the world's finite resources. Products manufactured at Holwell contain 98 per cent recycled materials and are themselves 100 per cent recyclable, he added.
To further its commitment towards net zero carbon, Saint-Gobain PAM UK has joined other major industry leaders and government ministers to sign the Infrastructure Carbon Review (ICR). This joint initiative aims to reduce carbon in infrastructure. As an ICR signatory, Saint-Gobain PAM UK has committed to reduce its carbon emissions by half by 2025, alongside a stated aim of engaging with employees, suppliers and customers to inspire a One Planet Future, he concluded.