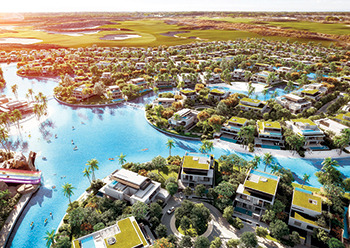 Azizi Venice ... to feature 30,000 residential units.
Azizi Developments, a leading private developer in the UAE, has revealed plans for Azizi Venice, its venetian-inspired luxury waterfront lifestyle community, set entirely within a swimmable crystal-blue water lagoon, in Dubai South.
The AED30-billion ($8.17 billion) high-end mixed-use desert oasis community will feature over 30,000 residential units, including 100 mid-rise apartment complexes and more than 400 villas and mansions.
Among its highlights, the community, which will boast 24 million sq ft of GFA on a 15-million-sq-ft plot of land, will also feature a luxurious temperature-controlled pedestrianised boulevard, Dubai's second opera and other unique, lifestyle-enhancing amenities. The world-renowned multi-disciplinary design firm AE7 serves as the consultant for Azizi Venice.
Azizi is taking on the role as the master developer, in charge of constructing the buildings, roads and all infrastructure of the large-sized mixed-use development.
Azizi Venice is distinguished by its enormous crystal-blue water lagoon, with multiple beaches. The turquoise, desalinated, and filtered waters will be framed by beach-like shores, an 8-km-long cycling and jogging track, yoga and sports facilities, and a promenade with a vast variety of artisan eateries and boutiques. The community will also be complemented by lush manicured greenery.
The pedestrian-friendly boulevard will be open-air in the winter and glass-covered in the summer to ensure a temperature-controlled space with year-round activity.
Another major attraction to be developed within Azizi Venice is Azizi Opera. Located at the heart of the boulevard, it will be built to the highest, most contemporary standards in design and architecture,
The community will have two Azizi-owned and operated five-star hotels at the entrances of the community, as well as one boutique hotel located on an island in the middle of the lagoon. Azizi Venice will feature a full-service hospital, kindergarten, schools, and a 4-km-long landscaped main road that will be flanked by additional eatery and shopping options.