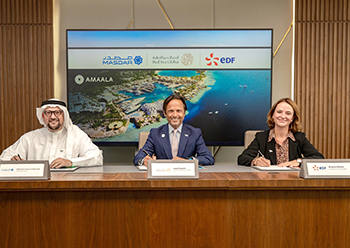 Pagano (centre) signs the deal with EDF and Masdar officials.
Red Sea Global (RSG), the multi-project developer behind the world's most ambitious regenerative tourism destinations, Amaala and The Red Sea, has entered into a 25-year concession agreement with the French multinational electric utility company EDF (Électricité de France) and Abu Dhabi-based clean energy company Masdar on a multi-utilities infrastructure facility to service the Amaala destination.
The scope of work includes financing, engineering, development, construction, operation, maintenance and transfer of a multi-utilities infrastructure facility.
The facility consists of an optimised off-grid renewable energy system, which generates energy from photovoltaic technology, and a battery energy storage solution that enables 24/7 power, plus a desalination plant and wastewater treatment plant, both powered by renewables.
On the strategic deal, Red Sea Global Group CEO John Pagano, said: "The project follows the template for success provided by The Red Sea, where we recently completed the build of five solar farms, procuring a destination-wide utility system that enables us to operate with no connection to the national grid."
According to him, the utilities concession agreement for Amaala between RSG, EDF and Masdar has an initial 25-year term with the option for further extension.
Like its sister destination, The Red Sea, Amaala will be powered entirely by solar energy, saving the equivalent of nearly 0.5 million tonnes of CO2 emissions every year. Its renewable supply system has the capacity to generate up to 410,000 MWh per annum – enough to power 10,000 households for an entire year. The system includes a 700 MWh battery storage facility, which ensures Amaala will be powered by renewables, day and night.
There will also be a water desalination plant that uses reverse osmosis technology and has a capacity of 37 million litres of water per day.
The contract was procured in the model of an independent public-private partnership (PPP), covering the design, construction and operation of the systems providing utilities, accompanied by the associated networks and infrastructure.
According to RSG, the first phase of Amaala will be focused on the Triple Bay masterplan and will be ready to welcome first guests in early 2025.