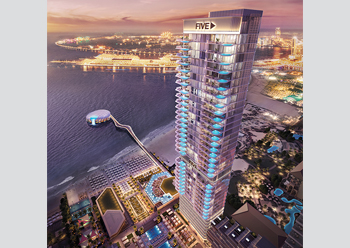 FIVE Luxe, JBR ... to open this year.
Pacha Group, a renowned lifestyle brand, has teamed up with hospitality group FIVE Hotels and Resorts to launch the first Lio lifestyle destination outside its Spanish base at FIVE Luxe, JBR in Dubai.
Opening in 2023, FIVE Luxe JBR is a prime beach property which boasts 222 hotel rooms and suites, 275 opulent residences, multiple culinary and nightlife venues in addition to a 14,000-sq-ft private beach, a social pool, ReFIVE Spa, indoor pool with an outdoor gym, paddle tennis court and kids club.
Joining the FIVE Luxe, JBR way of life is a new icon for the JBR landscape – FIVE's ultra-luxe residences Sensoria that aims to transform the realm of luxury living. The new property will also embody cutting-edge sustainability through smart systems and resource conserving technology, according to Pacha, which added the hotel and residences are on track to acquire Leed (Leadership in Energy and Environmental Design) Platinum Building Design & Construction (BD+C) and Sphire.
The famed entertainment extravaganza Lío will arrive in Dubai to become a small island in the Gulf. It will spread over more than 35,000 sq ft, accommodating over 300 visitors on the terrace, more than 500 guests for the dinner show and over 1,000 revellers in the club, it added.
Design specialist Lazaro Rosa Violan offers a 'Pearl of Dubai' concept for Lío Dubai. "Creatively conceptualising Lío Dubai has been an amazing opportunity for Team Lazaro Rosa Violan – for what will be, in our opinion, Dubai's newest icon!," remarked María Cañizares Rivas, the Architect Team Leader at Lazaro Rosa Violan.
Explaining the concept, Rivas said: "The curvilinear layers of the roof will rest on the sea to serve as support for the large platform raised above the sea. The materiality of this structure will create sinuous and reflective geometries that allow the building to be glimpsed from the entire city skyline – like a floating shell emerging from the sea."
"A large glass facade will allow vision and access to the different balconies and terraces of the building," she noted.
Highlights of the façade are a set of rounded pillars that will make a transition between the interior and the exterior and a large waterfall.