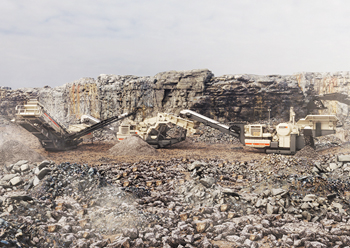 The new Lokotrack range is expected to be transformational for the aggregates industry.
In response to the growing demand for sustainable solutions, Metso Outotec is developing a new, complete range of electrically-driven track-mounted crushers and screens. The new Lokotrack range will be built on a unique platform that the Finnish company has been developing since 2020 with a total R&D investment of €20 million ($20.8 million).
The platform concept has now been developed, and Metso Outotec is currently entering the design phase of the first new products. The new Lokotrack range will be transformational for the whole aggregates industry of mobile crushing and screening. This will also significantly contribute to Metso Outotec's Planet Positive strategy and its commitment to reach the 1.5 deg C climate target.
"The next-generation Lokotrack range will address the needs of our crushing and screening customers by providing new easy-to-use diesel-electric equipment," comments Renaud Lapointe, Senior Vice President at Metso Outotec's Aggregates business area. "The possibility to run track-mounted machines from an integrated genset or to connect to an external power source lowers operational costs and allows access to renewable energy for our customers."
The new unique platform will enable a faster and more agile way to develop products and reduce the number of components. "Using one common architecture throughout the range allows scalable solutions that can be seamlessly combined and adapted for different applications and capacities. Harmonised design together with advanced digital solutions enables our global service network to support the customers throughout the entire equipment lifecycle," says Jarmo Vuorenpää, Director, New Lokotrack Offering, Aggregates business area at Metso Outotec.
Lokotrack has made it possible to provide on-site mobility close to the processed raw materials, lowering transport and hauling costs and emissions. During the last 35 years, the concept has grown significantly with thousands of units manufactured and sold globally every year.
Metso Outotec is a frontrunner in sustainable technologies, end-to-end solutions and services for the aggregates, minerals processing and metals refining industries globally.
Among other developments, the company is launching an upgraded version of Metrics, an innovative cloud-based tool for real-time monitoring for Lokotrack mobile crushers and screens of aggregates customers. The new remote monitoring solution is expected to bring significantly better connectivity and optimisation benefits to aggregates customers' crushing processes. The solution has been developed together with distributors and customers and offers several state-of-the-art features that support customers in achieving their sustainability and operational targets.
The new Metrics features include C02 tracking for sustainability benefits, 24/7 access to real-time data, a maintenance module, critical dashboards for utilisation, and geolocation. Furthermore, the new Metrics allows remote troubleshooting and the user interface can be tailored to address different customer needs. New features and functions can be also updated remotely.
By combining the new Metrics with its global service footprint, Metso Outotec and its distributor partners can support customers in making data-driven decisions that impact their crushing and screening operations.
"We wanted to develop a next-generation solution that will bring quantifiable value and deliver more production hours and tons to our customers. The key to building sustainable operational efficiency is having the correct information to make decisions and select the right combination of services to lift the bar. Metso Outotec Metrics for aggregates connects mobile crushers and screens, providing increased real-time data visibility and analytics to improve availability, performance, reliability, and profitability," says Merja Tyyni, Vice President, Standard Crushers, Metso Outotec.
In addition to the improved speed of data transmission, new features will continually be developed. One new feature currently in development is integrated mass flow measurement for tracking production and waste to help customers quantify their production performance.
Metso Outotec Metrics for aggregates generates a strong link between the customer operations, product management, and product development.
"The new Metrics will enable us to take equipment features and customer experience to a new level by improving our customers' equipment's performance and increasing both uptime and the overall machine life-cycle," says Kimmo Anttila, Vice President, Lokotrack solutions, Aggregates business area, Metso Outotec.
While newer Lokotrack machines come equipped with Metso Outotec Metrics, legacy equipment can, in most cases, be modernised and integrate equipment digital connectivity with a Retrofit Kit. In the first phase, the Retrofit Kit is available for certain Lokotrack crushers and screens.
Meanwhile, Metso Outotec is introducing its renewed crusher wear parts solution offering the industry's widest variety of wear parts and services that enable customers' sustainable, predictable, and profitable crushing.
Metso Outotec crusher wears are available for its stationary and mobile crushers in mining and aggregates industries. The company also offers crusher wear parts for non-Metso Outotec crushers.