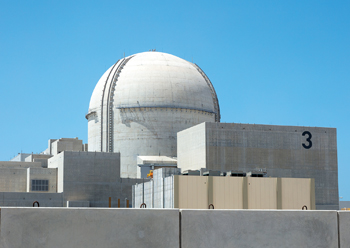 The Unit 3 is on track to deliver clean electricity in 2023.
The Emirates Nuclear Energy Corporation (Enec) has announced the successful completion of the construction of Unit 3 of the Barakah Nuclear Energy Plant, the Arab world's first multi-unit operating nuclear energy plant located in the Al Dhafra region of Abu Dhabi.
The unit has now been handed over for operational readiness activities and is on track to start up and deliver clean electricity in 2023, joining Unit 1 which is fully operational and Unit 2 which is connected to the UAE grid and undergoing testing while raising power levels. This milestone means that the Barakah Plant will soon deliver yet another 1,400 MW of zero emissions electricity, highlighting the UAE's leading role as a clean energy leader.
Unit 3 has already successfully completed a number of individual and combined system tests, including Cold Hydrostatic Testing (CHT), the Structural Integrity Test (SIT), and Integrated Leak Rate Test (ILRT), and the Hot Functional Test as part of the first phase of its Initial Testing Programme (ITP).