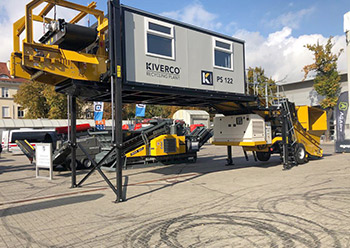 Kiverco recycling solutions are in use worldwide.
Irish group Kiverco says it has secured a contract to design, build and install a waste recycling plant within one of the world's most ambitious tourism developments coming up on Saudi Arabia's Red Sea coast.
The Red Sea Project is one of several large-scale investment giga-projects approved and overseen by Prince Mohammed bin Salman bin Abdulaziz Al Saud, Saudi Arabia's Crown Prince, Deputy Prime Minister and Minister of Defence as part of the kingdom's ambitious Vision 2030.
The contract was awarded by Averda, a leading waste management business in the emerging world, which is responsible for collecting and recycling waste generated by administration offices, residential facilities and construction activities within the Red Sea project along with its joint venture partner Saudi Naval Support Company (SNS).
The Red Sea Project win represents another significant contract in the Middle East following Kiverco's success in securing business in the UAE for a multimillion-dollar waste recycling plant to process and recover waste materials from the upcoming Expo in Dubai in 2021.
On the contract win, Chad Woodward, Director of Trade and Investment at the British Embassy in Saudi Arabia, says: "The Red Sea Project is a very prestigious development in the kingdom and I am very pleased to learn of Kiverco's involvement in the project. The fact that Kiverco was chosen by Averda to deliver a solution to process the waste generated by this project highlights the excellent reputation British manufacturing has in the region.
"Kiverco has started to expand in this region and I am confident that they will continue to win new business as a result of this flagship project."
Averda Technical Director Mazen Rifai says: "This is a hugely important project for Averda and for Saudi Arabia. It was critical for us to choose the right partner to provide a waste recycling plant as we must meet stringent targets on throughput and recovery rates."
"Kiverco is well known for its design and build quality and has a long history of dealing with this type of waste. I am very confident we have chosen a partner who will work closely with us to deliver this project and facility for Averda and TRSDC."
Gabriel O'Keefe, Regional Export Manager, Kiverco, says: "We are delighted to be selected by Averda to design, manufacture and install this recycling solution and honoured to be associated with the big Saudi project. This will be a world-class tourist destination and we look forward to working with Averda for many years to come."
Kiverco's recycling solutions are utilised across the world in Europe, North America, the Middle East and Australasia with more than 300 installations in the UK alone.