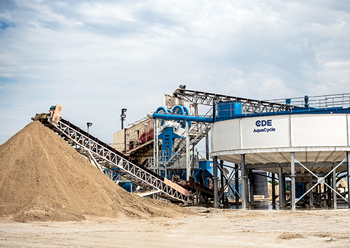 CDE equipment ... addressing the region's challenges.
Experts from CDE – a UK company specialising in wet processing equipment for sand and aggregates, mining, construction and demolition (C&D) waste recycling and industrial sands – together with industry experts, hosted late last year a series of informative presentations and panel discussions covering their specialisations. These focused on the sand and aggregates, construction and demolition waste recycling, industrial sands, mining, and wastewater sectors.
CDE Regional Manager Ruchin Garg was joined by Ali Ahmed Al Theeb, General Manager at Sandco of Kuwait, to discuss how CDE's hydrocyclone technology can overcome sand washing challenges.
"Older technologies have limitations when it comes to the loss of sand due to overflow," Garg explained. "You lose a good quantity of particles into the sludge. It requires a larger footprint and higher maintenance and the downtime of these machines is much higher."
"Typically, we see anywhere from 10 to 30 per cent of material lost in sludge pits using a combination screw/classifier or bucket wheel," he said, adding that CDE provides a solution with filter press and thickeners.
Al Theeb said: "In Kuwait, sand has a high amount of silt and fine content, almost 15 to 20 per cent. It is a huge challenge to try and reduce this amount of silt."
The high amount of silt content in the natural sand means it is unsuitable for construction and makes sand washing necessary.
"Until 2008," he said, "we were using traditional technologies for sand washing, which depended on gravity for the separation process. We then started exploring alternative technologies for sand processing to improve the quality of SandCo's washed sands. After researching options, SandCo opted for CDE's hydrocyclone and dewatering technology. This technology was totally new to the Kuwait market," he added.
Today, SandCo produces high quality sand to industry specifications with increased productivity and efficiency. It is a certified supplier for many projects, producing premium washed sand and supplying the largest market share of construction sand in Kuwait.
Garg was joined by Eunan Kelly, Head of C&D Waste Recycling at CDE, and Ahmed Taher, General Manager at Al Dhafra Recycling Industries, to discuss the role of construction, demolition and excavation waste material in the sustainable city agenda.
Taher said: "Mandating usage of recycled products supports the UN Sustainable Development Goals. One of the key features that makes us successful in Abu Dhabi and UAE is that by law each and every infrastructure project must have a minimum of 40 per cent content of recycled products."
Garg agreed: "Legislation will make the business idea more feasible."
The packed two-day programme featured almost 90 sessions involving over 100 speakers.
"Utilising our global network, we decided to programme the major two-day Engineering Insights symposium which proved to be a huge success with almost 1,500 industry professionals from around the world registering. We firmly believe this shared approach to knowledge and expertise is a better way to aid the progression of the industry," Garg concluded.