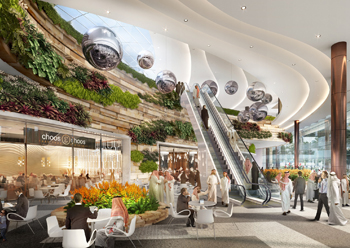 360 Kuwait's striking design and circular layout have garnered multiple awards.
CallisonRTKL (CRTKL), a global architecture, design, and strategy firm, has announced that 360 Kuwait in Kuwait City has won three awards: the 2021 ICSC Gold Global Award for Design and Development, the Mena Shopping Centre & Retailer Gold Award for Renovations and Expansions, and the RLI International Shopping Centre Renovation Award.
360 Kuwait is an expansion of 360 Mall which opened in 2006, also designed by CRTKL. The mall expansion connects to the original shopping centre via a bridge and is composed of a new mall concourse, a Grand Hyatt Hotel and the Rafael Nadal Tennis Academy, which opened in 2020.
Leading shopping mall developer Tamdeen commissioned CRTKL to set a new benchmark for immersive retail experiences. Combining upscale retail, offices and entertainment, 360 Mall's striking design elements, state-of-the-art technology and circular layout have garnered multiple awards and have made it one of the top luxury shopping centres in the region.
"We are honoured to have been recognised on a global scale for our work on the 360 Kuwait shopping centre," said Hernan Molina, Associate Principal at CRTKL. "As a firm, we always aim to push the boundaries within design to create elevated moments that capture the essence of the regional culture, tastes, and preferences. Such noteworthy recognition is an honour and reinforces the project's place as the premier shopping experience in Kuwait."