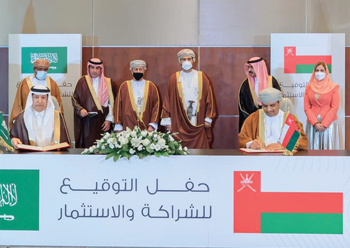 Officials at the signing ceremony.
Naqel Express, one of the largest express logistics providers in Saudi Arabia, is broadening its horizons in the region by establishing a logistics complex in Oman.
The leading logistics supply chain solutions provider last month concluded a deal to set up a warehouse at Khazaen Economic City (KEC), as part of the agreements signed between Saudi and Omani companies, coinciding with the visit of Saudi Crown Prince Mohammed bin Salman Al Saud to the sultanate. The agreement was signed by Engineer Salim Al Thuhli, CEO of Khazaen Economic City, and Adnan Al Mazrooa, Deputy CEO – Shares Services of Naqel.
The warehouse, which will cover an area of 2,110 sq m, will be operational in the first quarter of 2022, according to Al Mazrooa. Highlighting the benefits of KEC, he said that the economic city enjoys a strategic location and a good infrastructural base, which will help Naqel in providing integrated logistics services in the sultanate.
Al Mazrooa indicated that Naqel will initially invest SR3 million ($798,000) in Oman during 2022. This will be followed by further investments depending on the extent of the company's expansion in the country.
Al Mazrooa said that Naqel will provide international and internal land transport services in Oman, in addition to door-to-door delivery of domestic and international parcels for electronic stores.
He added that Naqel will allocate a warehouse to manage the requests of electronics suppliers, in response to the surge in e-commerce transactions globally since the outbreak of Covid-19 pandemic.
The recent opening of the 725-km Omani-Saudi Highway across the Empty Quarter, the first direct land border crossing between the kingdom and the sultanate, will facilitate logistical movement between the two GCC countries, enabling smooth movement and the integration of supply chains, Al Mazrooa pointed out.
He added that the new road and Khazaen Dry Port and Sohar port will contribute to the growth in revenues and exports between the two countries and enhance the level of logistics services and streamline trade activities.
Naqel's National Manager in Oman Hassan Qaw said that the agreement will enable Naqel to leverage on its strengths and capabilities in Saudi Arabia and expand in Oman to provide a wide range of logistics services in the sultanate.