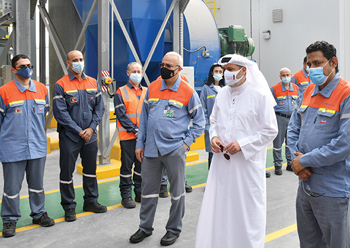 The new SPL plant was inaugurated by Shaikh Daij in the presence of top Alba officials.
Aluminium Bahrain (Alba), the world's largest aluminium smelter ex-China, has selected a consortium of Japan's Mitsubishi and Sepco III as the engineering, procurement and construction (EPC) contractor for the fourth additional block in its Power Station 5.
The announcement was made at the in-person Q4 board meeting held under the chairmanship of Shaikh Daij bin Salman bin Daij Al Khalifa.
The meeting was attended by Alba board members – comprising six directors appointed by Bahrain Mumtalakat Holding Company – Yousif Abdulla Taqi, Suha Karzoon, Shaikh Isa Bin Khalid Al Khalifa, Tim Murray and Rasha Sabkar; the three directors appointed by Sabic Industrial Investments Company – Ahmed Al Duriaan, Iyad Al Garawi and Omar Al Amoudi; and one elected director, Mutlaq Al Morished.
The deal is however subject to successful financial closure, said Alba.
Addressing the members, Shaikh Daij said: "As we chart our way towards integrating ESG in every aspect of our business to meet Bahrain's National Green Initiatives, Power Station 5 – Block 4 will bring us one step closer in our race towards decarbonisation in terms of higher efficiency and lower greenhouse gas (GHG) emissions."
"Block 4 will add 680.9 MW to Power Station 5's 1,800 MW and scale up its total capacity to 2,480 MW," he added.
Power Station 5, which hosts three gas turbines, steam turbines and heat recovery steam generators, is the biggest and most efficient power plant in Bahrain.
During his recent inspection tour of the PS5, Shaikh Daij had dubbed it as a game-changer for Alba as it has scaled-up the company operational efficiency especially in terms of lower production cost, lower Green House Gas (GHG) emissions and lower gas consumption – all of which has made PS5 one of the most efficient combined cycle power plant in the Gulf region."
Alba chairman said it had witnessed a record-breaking performance for the first nine months and the company was on track to set new benchmarks by finishing 2021 strong.
Starting out in 1971 as a 120,000 mtpa smelter, Alba, today boasts a production capacity of more than 1.548 million metric tonnes per annum (mtpa) as of 2020. It remains committed to fostering greater sustainability across all its operations.
Meanwhile, Alba has announced the successful commissioning of its spent pot lining (SPL) treatment plant built at an investment of $37.5 million.
A first-of-its-kind for the region, the zero-waste plant was inaugurated by Shaikh Daij in the presence of senior officials including its CEO Ali Al Baqali, Chief Operations Officer Dr Abdulla Habib and the executive management team.
Built over a 26,000-sq-m area, the SPL has an annual capacity of 35,000 tonnes. A zero-waste process, it will enable Alba to transform the treated SPL into valuable product, which can be used in other industries such as cement, Alba stated.
According to Alba, work on the proiect started in December 2019 and has till date achieved more than 750,000 safe-working hours without lost time incident (LTI). The SPL plant was completed as per timeline despite the Covid-19 challenges.
Commenting on this occasion, Shaikh Daij said: "Bahrain, and Alba, have set many firsts in the region – with the commissioning of the SPL treatment plant, we are proud to have once again set the benchmark in sustainability by transforming the spent pot lining into value-added products. As ESG is our only way forward, we have proudly established this one-of-a-kind project, and gone above and beyond to achieve the right balance between our economic gains and social returns."
"We are also pleased to have achieved savings of $6.5 million, despite Covid challenges, corresponding to 15 per cent benefits, versus SPL treatment plant allotted Capex of $44 million," he added.
Al Baqali said: "To change the way we do things, we need to challenge the existing reality. Without environmental sustainability, we cannot face the challenges the world is facing today. The SPL treatment plant translates our mission to keep ESG as our top priority all the while doing more good to our community."