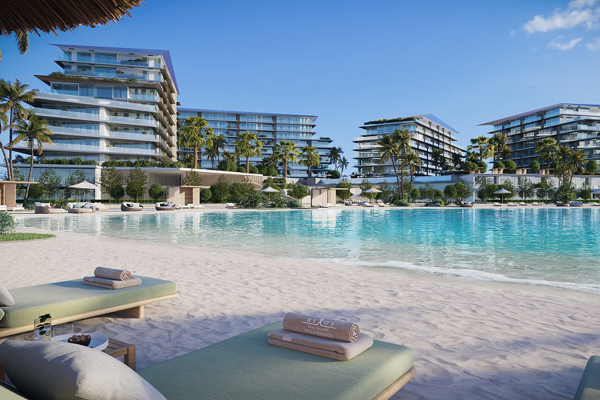 Leading Dubai developer Nakheel has joined hands with Excelsior Real Estate for the launch of the second phase of its recently unveiled waterfront development - Rixos Dubai Islands, Hotel & Residences - the first luxury hotel and residential offering on Dubai Islands.
The Phase II inventory of Rixos Dubai Islands, Hotel & Residences offers 331 residences with a mix of one- to three-bedroom units, four-bedroom duplexes as well as beach houses with large terraces as well as beach houses with gardens.
Ranging from 93 sq m to 876 sq m, the apartments feature spacious floorplans, built in kitchens, large terraces with panoramic views overlooking the beach and seamless indoor-outdoor connectivity.
The units have been carefully constructed and are positioned at optimum angles to provide a full panorama to residents of the natural settings of the development, stated the developer.
Apartments with high-ceilings and full-height glazing provide maximum natural light and ventilation into the interiors. Future residents can look forward to a range of amenities including adult and kids' pool, podium gardens, beach level snack bar and kids' play area, it added.
Rasha Hasan, Chief Commercial Officer at Nakheel, said: "After receiving an overwhelming response to the release of the first phase, we are proud to unveil Phase II of Rixos Dubai Islands, Hotel & Residences. At Nakheel we pride ourselves on creating living experiences that are truly exceptional and offer the highest standards of urban infrastructure and facilities right in the heart of Dubai."
"Our newly launched waterfront development will offer an unparalleled living environment for those seeking luxury living with a metropolitan lifestyle," he added.
Dubai Islands comprises five islands with a total area of 17 sq km and 20 km of beaches and offers beachfront living within 20 minutes of downtown Dubai, as well as key locations including the airport and marine ports.
As well as Rixos Dubai Islands, Hotel & Residences, they will be home to over 80 resorts and hotels, including luxury and wellness resorts, boutique, family and eco-conscious hotels, supporting Dubai's ambition to boost the tourism and hospitality sector.
Francois Baudin, Chief Business Officer, Ennismore Immersive Resorts & All Inclusive Collection, said: "We are excited to launch Phase II Beach Residences of Rixos Dubai Islands, Hotel & Residences which will offer residents a luxurious and relaxed atmosphere, coupled with family-friendly activities and an extraordinary resort-style living experience."
"We are looking forward to welcoming residents and visitors to experience everything that Rixos has to offer surrounded by the tranquility of the coastal location on Dubai Islands," he added.-TradeArabia News Service