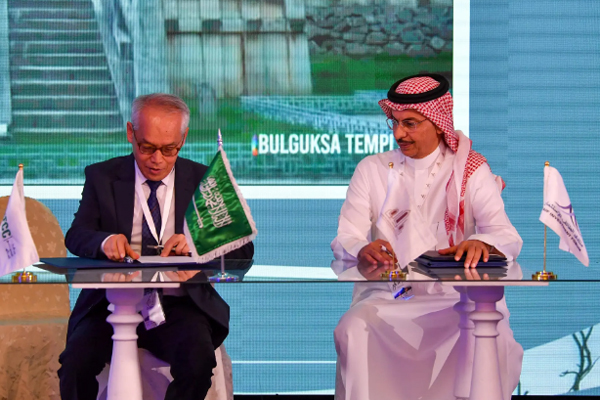 Leading Saudi, UK, Chinese and Korean companies have signed investment agreements worth over SAR11 billion ($3 billion) at the Taif Investment Forum which concluded today (November 8).
The event, held in the southwestern city of Saudi Arabia, was attended by several high-ranking officials from Saudi government agencies and the private sector.
The key agreements inked were for establishment of the first phase of Mars War, the space science fiction city, setting up of an emergency information center as well as a project to build five five-star tourist resorts, reported SPA. Among the agreements, Fakieh Group signed a deal worth SR400 million with a South Korean company.
On the Mars War project, the officials said it was being set up within the Taif University at an initial investment of SAR5 billion, which could exceed to SAR20 billion in the final stage of the tourism project.
An integrated city inspired by space, Mars War is being developed in co-ordination with the Beijing Technology Group, which comprises Chinese university, government and advertising companies.
On the emergency info centre, the officials said it is being set up jointly with China Mobile company for an estimated cost of SAR2 billion, to support the company's planned center in Jeddah.
In addition to this, five new five-star resorts wil be built in Taif city to cater to growing tourist numbers in addition to other municipal projects worth over SAR1 billion.
Also there is a project with an Indian company at helm that will see the production of cooling material for computers, especially central computers, in bid to cut their energy consumption by 80%.
The Forum dedicated the second session to discuss "quality of life and humanizing cities", with Director of Strategic Partnerships at the Quality of Life Program Abdulrahman Al Anbar reviewing the objectives of the programme, such as improving livelihoods, increasing employment and leisure opportunities, making the kingdom an attractive destination for ambitious young people, contributing to improving the lifestyle, and building an ideal society for citizens, residents and visitors, said the organisers.
The programme, one of those set in the Saudi Vision 2030, seeks to transform the kingdom into a destination for seekers of global sporting and recreational events, making it a regional and international tourist attraction, and a sophisticated country that every citizen is proud of, they added.-TradeArabia News Service