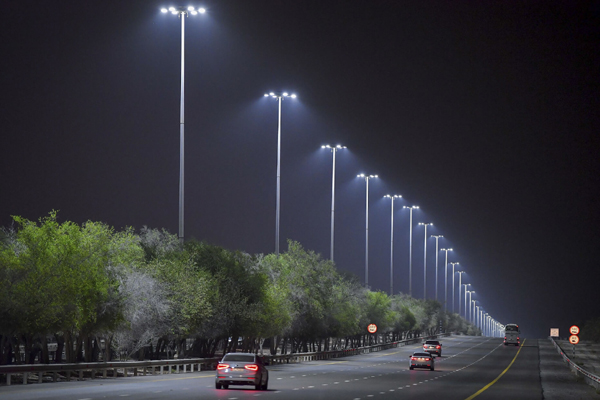 Abu Dhabi Investment Office said it has achieved the financial close with Nojoom, a joint venture between French multinational utility companies EDF and Engie, for the implementation of its key LED street lighting PPP project in the UAE capital.
The project, being implemented in collaboration with the Department of Municipalities and Transport (DMT), is part of the wider Abu Dhabi Road Lighting Programme, said ADIO in a statement.
The scope of work for Nojoom includes the finance, supply, installation, operation and maintenance of 133,473 LED energy-efficient luminaires across the emirate.
On completion, the PPP project will result in significant electricity savings of almost 2,400 million kWh, equivalent to a reduction of approximately 74% in power consumption, over the 12-year concession period.
With financial close reached between the parties, work will now commence, it stated.
Lauding EDF and Engie on reaching financial close, ADIO Acting Director General Engineer Abdulla Abdul Aziz AlShamsi said: "It will begin delivering significant energy reductions across Abu Dhabi's Road lighting during the UAE's Year of Sustainability and ahead of hosting COP28."
"Abu Dhabi continues to effectively utilise our advanced PPP framework to deliver key infrastructure projects," he stated.
DMT too played a critical role in the selection process of the winning consortium for the street lighting LED PPP project. After a thorough evaluation of the proposals submitted by pre-qualified bidders, EDF and Engie signed a partnership agreement with the DMT to deliver the project.
The project was procured in accordance with Abu Dhabi's PPP Law and ADIO's Partnership Projects Guidebook and Environmental, Social and Governance (ESG) Policy.
EDF and Engie signed a partnership agreement with DMT after a thorough three-stage evaluation of the proposals submitted by pre-qualified bidders. The selected consortium will deliver the project over five phases covering smaller geographical zones across Abu Dhabi to ensure the highest efficiency and sustainability standards.
Salem Al Kaabi, Director General of Operational Affairs at the Department of Municipalities and Transport said: "The project is an excellent example of our commitment to collaborating with private entities to deliver high-quality infrastructure projects in Abu Dhabi."
"The street lighting LED PPP project highlights DMT's adherence to the highest standards of governance, social responsibility, and environmental sustainability," noted Al Kaabi.
The project's successful implementation will not only result in significant energy savings but also contribute to the UAE's Net Zero 2050 strategic initiative, further reinforcing DMT's commitment towards sustainable development",he added.
Ian Harfield, Managing Director of Engie Energy Solutions for GCC, said: "This project perfectly showcases how public-private partnership can deliver economic gains, sustainable development and substantial decarbonisation benefits for regional cities."
"We are delighted with the opportunity to showcase our capabilities and look forward to leveraging our experience in global energy projects and advanced technology to deliver real value to Abu Dhabi and its residents. Further, this project helps advance The UAE Green Agenda – 2030, which among other objectives, focuses on clean energy and climate action," he added.
Luc Koechlin, CEO of EDF Middle East, said: "We are delighted to have successfully reached the financial close of the Abu Dhabi Street lighting project. This key milestone would not have been possible without the full support provided by the UAE government and authorities and without the commitment shown by the project team, partners and financing organisations."
"Our efforts will now be concentrated on building the human capital we need with our international know-how and our partners' local expertise. We remain committed to contributing to the Emirates' carbon neutrality objectives by implementing concrete actions at the forefront of COP28," he added.-
-TradeArabia News Service