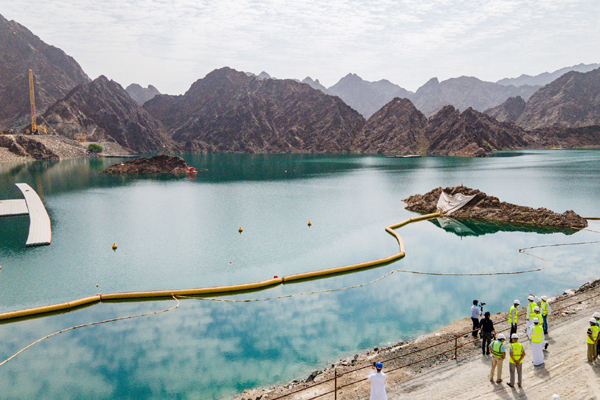 Dubai Supreme Council of Energy (DSCE) has announced that steady progress is being made on its pumped-storage hydroelectric power plant at Hatta region with 70% of the work already completed.
The plant, which is being built by Dubai Electricity and Water Authority (Dewa) at a total investment of AED1.42 billion ($387 million), is on track for completion in Q4 next year, stated DSCE in its 76th meeting which was chaired by Sheikh Ahmed bin Saeed Al Maktoum.
The meeting, held virtually in the presence of Saeed Mohammed Al Tayer, Vice Chairman of the DSCE, discussed the progress of the Mohammed bin Rashid Al Maktoum Solar Park phases, in accordance with the Dubai Clean Energy Strategy 2050 and the Dubai Net Zero Carbon Emissions Strategy 2050, to provide 100% of Dubai's total power capacity from clean energy sources by 2050.
The solar park's production capacity has reached 2,327 megawatts (MW) in addition to 533 MW underway, said DSCE in its statement.
Dewa also announced the 1,800MW sixth phase, of the solar park to reach 5,000 MW of production capacity by the end of 2030. The Mohammed bin Rashid Al Maktoum Solar Park includes a Research and Development Centre specialising in developing photovoltaic cells, storage batteries, and improving the efficiency of solar panels, it added.
The meeting was also attended by Ahmed Buti Al Muhairbi, Secretary-General of the Dubai Supreme Council of Energy, and board members Dawood Al Hajri, Director General of Dubai Municipality; Abdulla bin Kalban, Managing Director of Emirates Global Aluminium (EGA); Saif Humaid Al Falasi, CEO of Emirates National Oil Company (ENOC); Juan-Pablo Freile, General Manager of Dubai Petroleum; and Hussain Al Banna, Acting CEO of the Strategy & Corporate Governance Sector at the Roads & Transport Authority (RTA).
Al Tayer said the meeting also discussed the operation of the region's first green hydrogen production facility to support the strategy of diversifying energy sources and promoting sustainable development and a green economy.
"As part of its Space-D programme, Dewa has launched the latest nanosatellites supporting its cloud computing network," he stated.
"This enhances the digitalisation of the power and water networks, increases the efficiency and effectiveness of planning, operation and preventive maintenance for the generation, transmission, and distribution divisions; smart grids and electric vehicle charging stations, as well as research into the concentration of solar radiation and integrating them with power plant operations using Artificial Intelligence," he added.-TradeArabia News Service