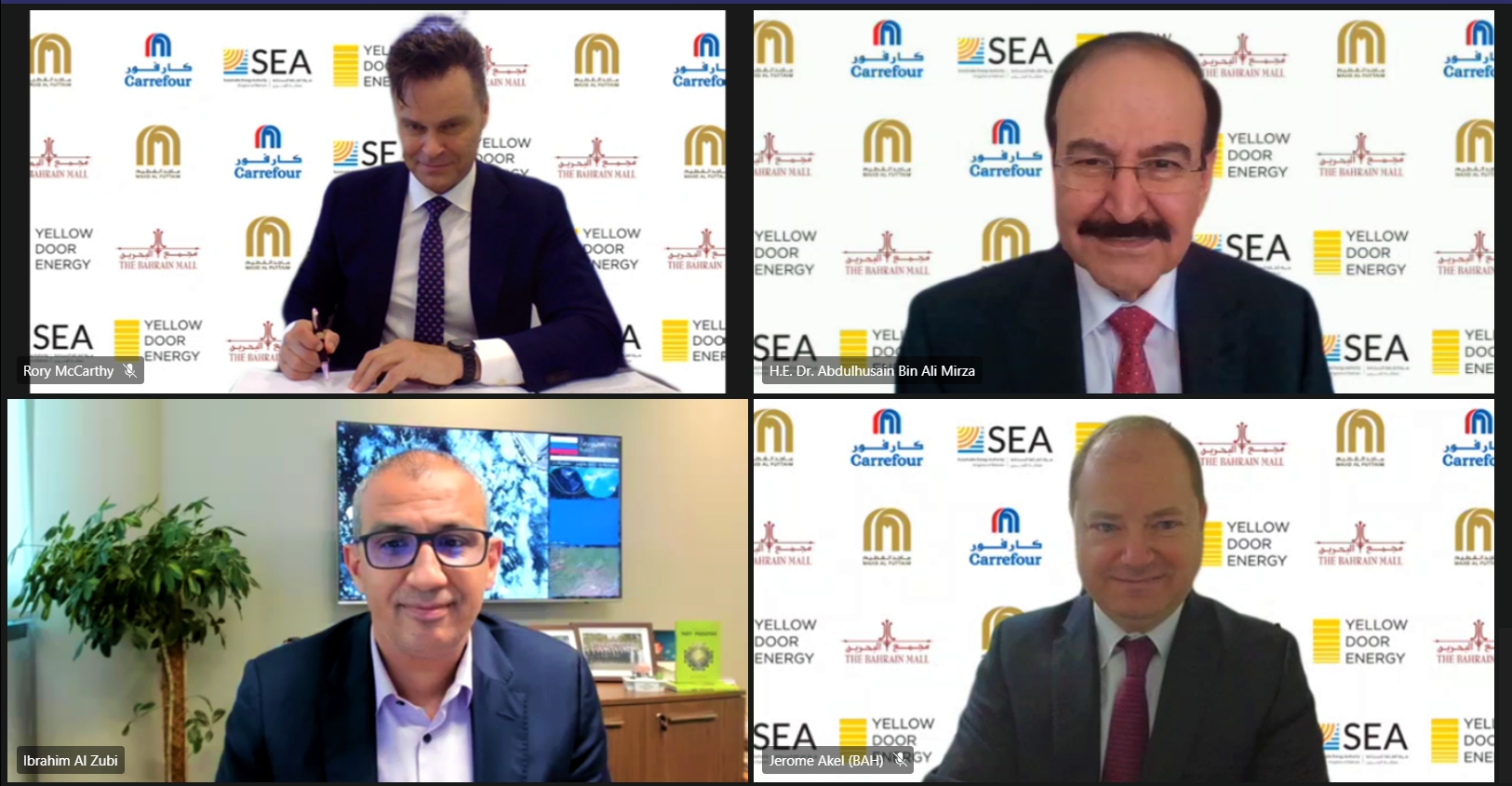 Majid Al Futtaim, a leading shopping mall and leisure pioneer in the region, said it has signed a 6.2 megawatt-peak solar power purchase agreement (PPA) with Yellow Door Energy, a top solar project developer for businesses in the Middle East and South Asia.
The agreement will bring clean energy to The Bahrain Mall, operated by Carrefour Bahrain, and will be the largest private solar plant in Bahrain.
As the solar developer, Yellow Door Energy is responsible for investing in designing, building, commissioning, operating and maintaining the solar plant for the next 20 years.
Spanning over 40,000 sq m, the rooftop solar plant is expected to generate 10 million kilowatt-hours of clean energy in its first year of operation, equivalent to reducing carbon emissions by 6,300 tonnes.
Over 11,600 solar panels will be installed to meet 50% of the shopping mall's energy consumption needs.
This agreement is part of the full renovation and expansion plan at The Bahrain Mall, which will be completed by 2022.
On the key agreements, Dr Abdul Hussain Bin Ali Mirza, President of the Sustainable Energy Authority (SEA), said this comes as a result of the cooperative efforts between the SEA and the private sector that evokes pride and embodies unity of purpose and the integration of efforts between the government entities and the private sector.
"This project constitutes an important shift in the provision of energy to major commercial projects, as this is one of the largest private sector projects to install solar energy systems on a commercial building to-date," he stated.
Dr Mirza also commended the initiative by Carrefour, owned and operated by Majid Al Futtaim in Bahrain, and their commitment to this strategic project.
"The brand's keenness to benefit from renewable energy and lower their overall carbon footprint, as well as the inclusion of the concepts of sustainable energy and environmental conservation in their development plans and strategies, reflects the company's interest to activate their role in supporting Bahrain's efforts towards the sustainable energy transition," he added.
Majid Al Futtaim Retail CEO Hani Weiss said: "Like other Gulf countries, Bahrain has made clear its sustainable vision for the future, with the Economic Vision 2030 setting a national renewable energy target of five per cent by 2025 and 10 per cent by 2035."
"These ambitions require the support of the private sector, and that's why Majid Al Futtaim and Yellow Door Energy have partnered to bring clean energy to the Bahrain Mall. We hope these acts will serve as an inspiration for more companies to follow the same example and join the contribution towards a more sustainable future," stated Weiss.
Jerome Akel, Country Manager of Carrefour Bahrain, said: "This momentous solar PPA with Yellow Door Energy enables us to save costs, cut carbon emissions and take a step closer to our Net Positive Strategy."
"This will not only help us take forward the company's vision of creating 'great moments for everyone, everyday' but it will also allow us to translate the savings and environmental benefits into memorable experiences for all visitors at The Bahrain Mall every year," he added.
Yellow Door Energy Chief Commercial Officer Rory McCarthy said: "This is our first project in Bahrain, and as the leading solar developer with 120 megawatts of solar assets in the region, we look forward to commissioning the solar plant."
"Our aim is to bring affordable and clean energy to more leading businesses in Bahrain that is in line with the kingdom's National Renewable Energy Action Plan," he added.-TradeArabia News Service