Armstrong Ceilings ... dark hues encourage contrast for lounges.
Armstrong Ceiling Solutions launches colour guides
UK-based Armstrong Ceiling Solutions, a leader in the design and manufacture of innovative commercial ceiling, wall and suspension system solutions, has launched new colour guides to deliver functional, sustainable and colourful solutions across the Europe, Middle East and Africa (EMEA).
Committed to designing human-centric spaces, the British group says it enhances the customer experience by offering high-quality, engineered solutions in a multitude of colours and materials including mineral, metal, mesh, floating ceilings and suspension systems.
Each guide provides in-depth insight and detailed recommendations on the use of vibrant ceilings, fit for the purpose of any project. The guides for both coloured and black ceiling solutions recommend using light-coloured ceilings to achieve bright and social retail, reception and restaurant spaces and using dark hues or black ceilings to encourage contrast for cinemas, lounges and concert spaces. This includes black ceiling solutions as a timeless, easy-to-maintain option that creates a sophisticated and intimate atmosphere for contemporary spaces. Armstrong Ceiling Solutions says as the need for increased wellness in spaces grows, colour can play an essential role in determining the design and personality of a space, which directly affects the mood and productivity of occupants. The coloured ceiling solutions can also be adapted to meet the acoustic demands of any space.
JYSK updates home decor collection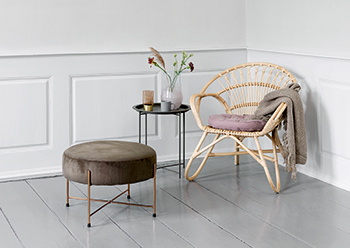 The Bellelund armchair ... part of the new collection.
JYSK, the Scandinavian homeware brand, has recently updated its product collection to inspire customers and help them create homes that relax and renew. The new collection includes a selection of cushions, string lights for living rooms, open storage, double desks for home offices, trays with scented oils and candles for bathrooms, decorative storage boxes to eliminate clutter and textiles with calm colours.
The collection is available in the UAE at JYSK stores in City Centre Mirdif, BurJuman Mall and Umm Suqeim Street, Al Barsha.
JYSK is among the largest retailers of duvets, pillows and mattresses in Europe and offers a wide range of other products for the rest of the home, such as furniture, bed linen, garden furniture and bathroom accessories.
Okha's coffee tables inspired by still water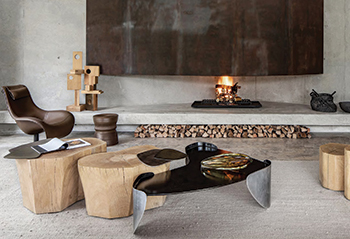 The Laguna coffee table mimics a body of still water.
OKHA, a furniture design and interiors firm, has unveiled its Laguna coffee table, which was first created for Cheetah Plains, an award-winning luxury safari destination in South Africa.
The South Africa-based firm that operates internationally created custom and bespoke furniture for Cheetah Plains in collaboration with interior designer ARRCC.
"The coffee table earns its name from the Spanish word Laguna which means 'pool', 'pond' or 'lagoon' and represents the Cheetah Plains watering hole where lions, elephants and cheetahs come to drink each day," says Adam Court, Creative Director for Okha.
Laguna's sensually organic and meandering form is a direct representation of a body of water or lagoon. Its smooth, black metal table top represents the still surface of water, its unknown depths and mysteries.
"The shape was inspired by a strong physical context, by landscape mass as well as the project's internal spatial layout and was, therefore, informed both by practicality and nature's poetry," Court explains.
This merging of art, abstraction and application is a clear signature throughout the Okha range.
Laguna can be customised in a range of materials including wood, stone, metal, mirror and reinforced glass.
"The legs and table body will always be made from two different finishes or materials as each represents a different physical element; the legs rise above the table top to enhance that feeling of landscape, of different masses...the flat horizontal surface of the table (water) is enveloped by the surrounding landscape which rises above the surface of the water," adds Adam.