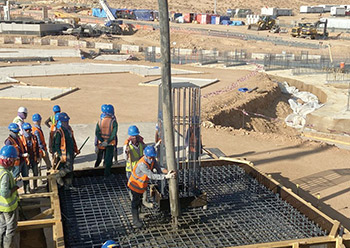 The first concrete pour for the project was carried out on March 3 this year.
Al Kifah Ready-Mix & Blocks (KRB), a leading provider of ready-mixed concrete and concrete masonry blocks products in Saudi Arabia, says it holds the distinction of having been the first supplier of concrete products for the staff accommodation at Neom, and continues to play a key role in the development of this futuristic city.
The company is this year supplying readymix concrete to Nesma and Partners, the main contractor involved in building more than 400 units for the staff accommodation on the top of Neom's Jabal Al Lawz at Trojena (Saudi Arabia), which will be the first outdoor ski resort in the region, according to the company.
KRB is supplying more than 4,000 cu m of environment-friendly concrete to support the construction of the Jabal Al Lawz staff housing project. The company has deployed Volucon Volumetric Mobile Batch Plants (VMBP) to produce high-quality concrete that conforms to international standards and is characterised by being environmentally friendly in line with its sustainability goals, according to the volumetric project manager.
"The first concrete pour for the project was carried out on March 3 this year. For the project, KRB mobilised a specialised team that included a group of talented engineers specialised in concrete and operating equipment, a quality control (QC) manager, batch plant (VBP) inspector and QC lab technician," he adds.
At Neom, Al Kifah Ready Mix tackled the twin challenges of the weather and the mountainous terrain with its volumetric unit, which is "the perfect technical solution for concrete production in remote areas".
These units do not need foundations as there is no footprint; and being mobile, they reduce the need for truck movement. They produce ConGreen sustainable concrete, which allows for reduced cement content. This apart, they reduce the risk to aquatic life, pollution, and soil contamination.
"Concrete is produced by volumetric measurement and continuous mixing with full compliance to ASTM C685 and ACI 304 and is approved by specifying bodies such as Saudi Aramco," says the R&D manager at KRB.
VMBP is an innovative sustainable and eco-friendly technology for concrete production. Characterised by being compliant to sustainability standards, these batching plants provide a sustainable solution for concrete production in remote areas and tough topographies, requiring zero mobilisation time, he points out.
Citing other advantages of the batching plants, he says: "They facilitate high productivity and accuracy with zero wastage and enable concrete production with minimal energy consumption. This apart, concrete is produced and poured onsite.
"These batching plants produce concrete of consistently high quality. Each unit can produce 20 cu per hour of concrete, which can be directly discharge or transferred into transit mixers for distribution. Aggregates can be stored on site or in multiple areas. Cement is normally supplied in a bulker with direct feed into the mixing unit, eliminating the need for silos."
Innovative volumetric technology is used to better serve and help in giving solutions for clients based on their needs in remote and rough-terrain areas, in addition to all offshore works.
The R&D manager, point out that concrete is sustainable when it is produced in a low energy consumption facility, produced with little waste, made from some of the most plentiful resources on Earth; when it produces durable structures, is made with green materials and technologies with a very low carbon footprint, and made with recycled materials.
Al Kifah is a leading producer of sustainable concrete with a very low carbon footprint and low resource footprint. The company has a low energy consumption production line; utilises low carbon dioxide emission technology and materials and recycled and/or inhouse or regionally sourced materials; and low carbon dioxide emission materials; and adopts waste control measures.
Safety
KRB HSE manager says KRB is fully committed to creating, providing and sustaining a safe working environment and promoting and maintaining the highest health, safety and environment (HSE) as well as quality standards in its entire operations at the Neom project and thus contributing to the overall betterment of employees, communities and other stakeholders.
As a key player in the Neom project, KRB aims to operate in a safe manner and work towards an incident-free workplace which neither causes nor creates a risk of harm or injury to people and assets at the project.
In addition, KRB is constantly working on improving its processes to meet the requirements of international accreditation in the quality management system and customer satisfaction. It has been conferred with the internationally recognised ISO 9001:2015 certification for quality management
In-site testing facility has been established according to ASTM C1077 and it is well-equipped with all laboratory equipment needed to conduct performance tests of raw materials as per ASTM standards and to ensure that the green concrete produced by volumetric mobile batch plant is always compliant with the international standards ASTM C685 and ASTM C95 and meets the project specifications and the customer requirements, he concludes.