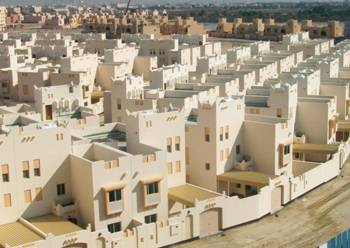 AICC has built 271 villas for the East Hidd housing project.
Having expanded its capabilities vertically in the Bahrain market, Ahmed Isa Contracting Construction (AICC) is now looking to broaden its horizons by setting up a joint venture with a major UAE construction company, according to a top executive of the veteran contracting firm.
"Entering a joint venture may open doors and lead to future work in Abu Dhabi," Khalid A Latif, General Manager, Ahmed Isa Contracting Construction, tells Gulf Construction.
"In addition, since most of Bahrain's governmental projects are funded by the GCC countries in line with the Marshal Plan, AICC is looking to expand its capabilities to carry out different types of projects and participate in these projects," he adds.
Classified as a first-class contracting firm, AICC is set to mark four decades of service to Bahrain's construction sector in April next year. The gamut of services it offers covers demolition, construction, and maintenance which the company has carried out for a variety of commercial, industrial, religious, and residential projects in the country.
"We have recently been concentrating on specialisation in the construction sector by expanding our capabilities to include steel reinforcement buildings, and producing hollow blocks of different sizes as well as insulation blocks such as sandwich and IMSI blocks at our own block factory. In addition, we have also set up a carpentry workshop and steel fabrication facilities for rods and other steel products," Latif adds.
AICC has recently added a second production line with a capacity of 17,000 blocks daily, which has boosted the total capacity of its block factory to 41,000 blocks per day.
This growth was achieved despite the Covid-19 pandemic, which has impacted businesses worldwide.
"The past few years have not been easy for the company, due to the pandemic. In general, the company has suffered from the impact of the pandemic through the increase in costs, additional expenses and delays in delivery of material as well as its effect on the well-being of our employees.
"Thanks to the precautionary measures taken by the company and its commitment to the guidelines set by the health authorities – giving top priority to the health and safety of its employees – and also to careful planning while anticipating changes, the company has successfully completed its projects and achieved growth," Latif remarks.
Among the key projects successfully completed by AICC during the Covid-19 pandemic was the construction of 271 villas at East Hidd for Bahrain's Ministry of Housing under a BD11.25-million ($29.6 million) contract. The project was handed over at the end of June last year.
AICC is currently engaged in another major project for the Ministry of Housing involving the construction of 119 villas at East Sitra under a BD3.625-million contract. The contractor commenced work on the project in October last year and is expected to complete it by the end of January 2023.
Commenting on the challenges of these projects, Latif says: "In general, the only challenge during both these projects was the Covid-19 pandemic which has a direct effect on material supply and work progress."
AICC is now keenly eyeing growth in the region.
"Currently our main focus is on becoming well known in the GCC region. In addition, creating a business relationship will lead to us participating in more projects," he concludes.