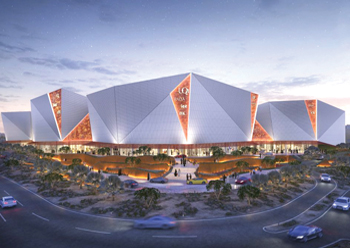 Solitaire, a vibrant 65,000-sq-m urban district in Riyadh.
Benoy, an international architectural firm, says steady progress is being made on Solitaire, a vibrant 65,000-sq-m urban district being developed by Saudi-based Al Marqab Investment Company in the capital Riyadh with the raft work completed and casting of the first basement slab set to begin.
The design, led by the international architects Benoy, encompasses two basements, ground floor and first floor retail spaces. The modern design allows for internal areas to be extended to the plot boundary and use of a fully developed boulevard plaza space.
Benoy's scope of work includes masterplanning, architecture, landscape design and interior design services.
"The 65 000-sq-m GLA (gross leasable area) scheme, which marks our largest on-site project in the Middle East region, will see us reinventing retail as a vibrant urban district promoting social engagement and creating a landmark destination," says a company spokesman. "The project sees us breaking down the traditional form of a shopping mall and reinventing it as partially open-air retail streets, plazas and boutique streets alongside an elevated roof garden."
"Our sustainable design strategy includes a series of wind towers aiming to create a comfortable outdoor environment by using passive cooling technology," he adds.
According to him, the design vision is based on the crystalline forms of a geode which has inspired Benoy's design and informed the building's facades, internal finishes and landscape.
"The diverse programmatic mix is arranged across three levels to create interconnected spaces to engage its users and promote wellbeing," says the spokesman.
"The high-quality public realm is the soul of Solitaire; enticing landscape, water bodies and respite areas are created for the comfort of visitors, to enhance their physical experience," he adds.