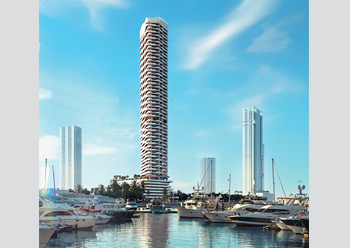 Damac Coral Reef being built in Dubai Maritime City.
Leading UAE developer Damac Properties has announced the launch of its latest project, Damac Coral Reef, to be developed within the picturesque Dubai Maritime City. In addition, it has unveiled plans to develop two residential collections within its Damac Hills 2 master community in Dubai.
Damac Coral Reef is an exclusive waterfront development, which promises to redefine luxury living, said the developer.
The seaside waterfront haven marks a major collaboration with acclaimed artist Vincent Faudemer, celebrated globally for his captivating Babolex collection.
Collaborating with the artist, Damac Coral Reef is set to introduce an unparalleled fusion of artistry and luxury living, said Damac.
Through this project, Faudemer will create a bespoke Babolex collection exclusively for the interiors of this architectural marvel.
Commenting on the launch, Niall McLoughlin, Senior Vice President at Damac International, said: "Damac Coral Reef is a testament to our commitment to pushing the boundaries of luxury living."
"By collaborating with Vincent Faudemer, we not only aim to offer a unique residential experience but also to create an immersive space where art and lifestyle seamlessly come together. This project is a true embodiment of our dedication to innovation and excellence."
This waterfront gem is the latest addition to Damac's impressive portfolio of branded residences, marking the sixth tower launch this year alone.
Meanwhile, within its Damac Hills 2 master community, Damac Properties has announced the launch of The Farmhouses and Verona.
Bringing a unique concept to Dubai, The Farmhouses collection offers massive country homes in the heart of the city. It will feature 13 standalone villas, with each unit having ample backyard area that homeowners can utilise to create horse stables, barnyards, hydroponic gardens, a yoga retreat, and a private outdoor cinema.
The second new residential cluster at Damac Hills 2 – Verona – will be located adjacent to the Victoria cluster and feature rows of townhouses. It will offer residents a living haven in the midst of state-of-the-art facilities for residents to enjoy including water parks, sports activities, and more.
Damac Hills 2 now is home to more than 29,000 residents. It was launched in 2014, soon after the successful opening of Damac's first master community, Damac Hills. The developer unveiled its third master development in Dubai – Damac Lagoons – in late 2021.