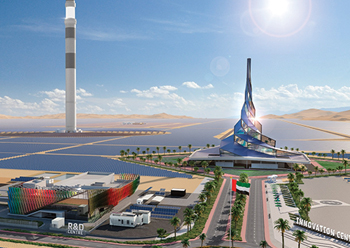 MBR solar park ... being built in phases.
Dubai Electricity and Water Authority (Dewa) has announced that Abu Dhabi energy group Masdar has emerged as the preferred bidder for the construction and operation of the 1,800MW sixth phase of the Mohammed bin Rashid Al Maktoum Solar Park (MBR) project. This phase is being developed on an independent power producer (IPP) model at a cost of AED5.51 billion ($1.5 billion).
Dewa has achieved, through this phase, the lowest Levelised Cost of Energy of $1.6215 cents per kilowatt hour (kWh) for any of its solar IPP projects so far.
The Dubai utility had received 23 expressions of interest from international applicants to develop this project. Subsequently, the Request for Qualification (RFQ) was released to market in November last year.
Announcing the preferred bidder, Saeed Mohammed Al Tayer, MD and CEO of Dewa, said: "The sixth phase of the solar park using photovoltaic solar panels based on the IPP model will become operational in stages starting from Q4 of 2024. The project documents, power purchase agreement (PPA), and financial close agreements will be signed in due course."
The total capacity of the solar energy projects commissioned at the solar park has reached 2,427MW. When completed, the solar park will reduce over 6.5 million tonnes of carbon emissions annually, stated Al Tayer.
The share of clean energy in Dubai's energy mix is about 16.3 per cent of its installed capacity. This percentage will reach 24 per cent in 2026 with the completion of the sixth phase and the remaining phases under construction of the solar park, he said.
"We are building another project with a capacity of 433MW. The 1,800MW sixth phase of the solar park will increase the total capacity to 4,660MW," he added.