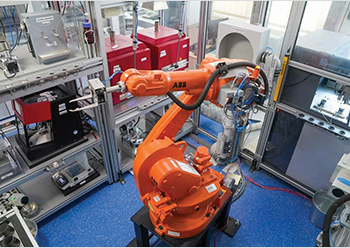 Dubai Central Laboratory ... equipped with robots for testing.
Dubai Municipality has announced that its key entity Dubai Central Laboratory (DCL) has begun leveraging AI (artificial intelligence) robots for testing construction materials used across the emirate.
These robots utilise X-rays to carry out chemical analysis of construction materials and cement products used, it stated.
The cement testing services are linked to a smart platform for laboratory testing services in Dubai Municipality, enabling customers to receive inspection reports quickly through smartphones, tablets, and mobile devices. This technique will improve the quality of the municipality's construction testing services as per the best international standards, it added.
Hind Mahmoud Ahmed, Acting Director of the Dubai Central Laboratory Department at Dubai Municipality, said: "The testing by AI robots shortens the duration of the tests from four days to eight minutes, with a record daily increase in the ratio of samples examined to 650 per cent compared to the previous pre-application situation. This will accelerate the process of submitting laboratory results to the consulting sector and contractors, ensuring the timely completion of the project stages according to their deadlines."
Hind emphasised that cement checks are important or concrete mixes and the results of their inspection have an impact on the quality and sustainability of buildings, significantly contributing to increasing their life span.
This technology will be used in the future to prepare specialised research studies at DCL aimed at the assessment of various constructions as well as construction products and materials, she added.