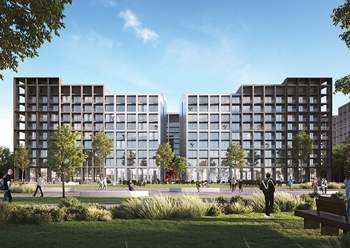 Nasaq District ... to be completed in two years.
Sharjah-based developer Arada has awarded a AED395-million ($108 million) contract to Gulf Asia Contracting Company (GAC) for the construction of Nasaq District, a cluster of six upscale apartment buildings located within its mega mixed-use community Aljada.
Nasaq District will boast 649 homes ranging from one- to three-bedroom apartments, featuring stylish and contemporary architecture, said the Emirati developer.
Each block offers residents direct access both to Aljada's tree-lined East Boulevard that brings a wide variety of shopping and dining experiences, as well as the community's urban linear park, which includes extensive sporting facilities, it added.
A Dubai-based contractor with extensive civil and industrial construction experience, GAC is already working elsewhere at the Aljada jobsite, after winning a AED475 million contract to build the Vida Aljada hotel complex in January.
Construction is set to begin soon on the Nasaq Distict and the entire work will be completed within two years, said a top official.
"We're determined to keep up the pace of work at Aljada, where 3,200 homes are now under construction, and look forward to working with our partner GAC to bring this vibrant new district to life, stated Arada Group CEO Ahmed Alkhoshaibi.
"Elsewhere on the Aljada jobsite, our teams are now closing in on the completion of the second phase of Madar, the popular family entertainment district, and we look forward to opening new and exciting attractions to the public within the coming months," he stated.
Spread over a 24-million-sq-ft area, Aljada is Sharjah's largest ever project.